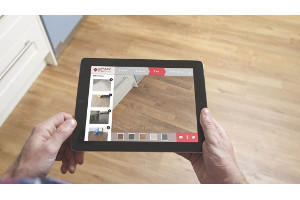 Karndean Designflooring has released an app for iPhone and iPad, using Augmented Reality (AR) technology.
Karndean customers can now use this new, interactive app to create a realistic, digital representation of their space with the flooring of their choice. The app works in any space in real time— meaning a homeowner can see the look of dark tile in her upcoming kitchen renovation, while an interior designer can decide whether or not to specify a light or dark shade of wood plank in a new clothing store.  
With access to Karndean's entire flooring catalog via the app's Touch Selector, users can view any Karndean floor, whenever they want. Simply download the app, select the tile or plank that interests you, and watch your room change before your eyes. 
"Karndean Designflooring continues to innovate, not only in our product offering, but also in the way we are interacting with our customers," said Emil Mellow, vice president of marketing, Karndean Designflooring. "We live in an 'on demand' society and our customers are looking for fast solutions at their fingertips." 
Choosing flooring for your home is a huge decision—after all, unlike paint colors, pillows or furniture, your flooring isn't something that gets changed often. If you are an architect specifying flooring for a new space, how nice would it be to experiment with light and dark planks with the touch of the screen? To make it even easier to share your creations, the app is integrated with Facebook, Twitter and e-mail, making it easy to get a second opinion once you've saved your favorite designs. 
The technology behind this App was developed Kudan Limited, a UK-based AR technology company. 
The app can be downloaded from the Apple App Store by searching for 'Karndean'. 
For more information, please visit www.karndean.com.