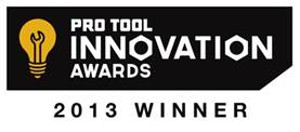 Three products from General Tools & Instruments have been named winners in the first Pro Tool Innovation Awards (PTIA) competition.
A panel of professional tradesmen in the electrical, plumbing, MRO and concrete fields, as well as general contractors, builders and Pro Tool Reviews staff members, judged the contest, evaluating products based on raw innovation, performance, features, build quality, productivity and value. 
"We set out to determine which tools, accessories and fasteners are the best. We knew this would be challenging and competitive, and we were right. Over 40 manufacturers entered more than 150 products," said Pro Tool Reviews Editor in Chief Clint DeBoer. "We believe the winning products represent the cream of the crop, offering increased efficiency and value through truly unique and advantageous features that are key for professional contractors and technicians."
General's iBorescope (DCiS1) and 4:1 IR Thermometer with NCV & Flashlight (VR40) were winners in the Test & Measurement category  The company's Digital Sliding T-Bevel (828) won in the Hand Tools category.
"We believe each of our award-winning products offers state-of-the-art technology combined with ultimate convenience and affordability," says General's VP of Strategic Marketing Peter Harper. "We're always striving to innovate cost-effective products that make technicians' and contractors' jobs easier. Winning these awards shows we're reaching those goals, and that gives us a great sense of satisfaction and pride."
Detailed information on these products can be found at www.generaltools.com.