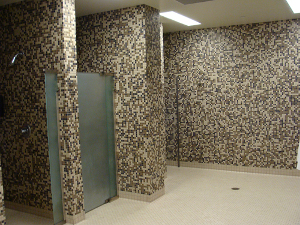 Kevin  Fox, Fox Ceramic Tile, for Robert D. Love Downtown YMCA  in Wichita, Kan.
TEC congratulates Kevin Fox of Fox Ceramic Tile – the grand prize winner of the "Imagine Achieve" contractor contest. Five runners-up have also been recognized by a panel of industry experts.
The judging panel included Rose Mary Clyburn, president of H.B. Fuller Construction Products; Dan Welch, president of Welch Tile; Jennifer Panning, president of Artisan Tile and Michael Ansari, president of AIC Contracting. These industry experts selected the winning entries based on imagination, craftsmanship and excellent use of TEC products.
As the grand prize winner for his work on the Robert D. Love Downtown YMCA in Wichita, Kan., Fox received a $5,000 cash prize, and Fox Ceramic Tile is featured on the TEC website and in TEC advertising.
"Winning this award gives us confidence that we are doing things right and running our business with success," Fox says.
His project used TEC products to aid with fast-paced tile installation at the 110,000 square-foot flagship YMCA. Fox Ceramic Tile installed large format porcelain tile on the building's lobby floor, ceramic and porcelain tiles throughout the building and porcelain mosaics in its pools, whirlpool and steam room. These varied environments presented installers with a challenge, and the judges noticed.
"It was a complex and labor intensive project," says judge Michael Ansari.
Fox Ceramic Tile utilized a range of TEC products, including HydraFlex Waterproofing Crack Isolation Membrane, Fast-Set Deep Patch, Fast Set Ultimate Large Tile Mortar, AccuColor EFX Epoxy Special Effects Grout and AccuColor 100 100% Silicone Sealant.
"Kevin Fox successfully used TEC products to achieve a highly functional, beautiful space that will be enjoyed by thousands of people," says Rose Mary Clyburn, president of H.B. Fuller Construction Products, the manufacturer of TEC brand products.  "We're proud to see our products in this space."
Fox Ceramic Tile and the five runners-up will be promoted within case studies. The runners-up are also featured on the TEC website and each received a $500 cash prize.
"There were a wide variety of entries ranging from small residential to large commercial projects – from across the country," says Jennifer Panning, contest judge.
The five runners-up are:
1. Ron Mayo, Flooring Systems, for Good Samaritan Regional Health Center in Mt. Vernon, Ill.
2. Matt Minshall, Uptight Floor Covering, for a Hacienda-style custom home in Paradise Valley, Ariz.
3. Nyle Wadford, Neuse Tile, for a pharmaceutical plant install in N.C.
4. Jeff Shultz, Metro Tile Contractors, for Oak Park Mall in Overland Park, Kan.
5. James Woelfel, Artcraft Granite, Marble & Tile Co., for a college locker room in Ariz.
Photos of these prize-winning projects are available at tecspecialty.com/imagineachieve. The grand prize winner and runners-up will also appear in TEC marketing materials.