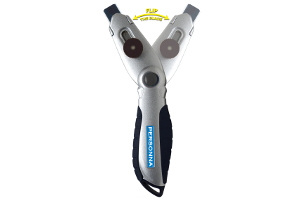 Personna, manufacturer of carpet blades and bladed tools, has introduced a new Personna Flip Lock  Carpet Knife.
The Flip Lock Carpet Knife provides users with a unique design that reduces carpet cutting time in half. With its patented design, the Personna Flip Lock Carpet Knife allows the user to change the position of the head of the knife to utilize both edges of the carpet blade. This knife is also safe to use since blade handling is reduced by 50%. 
"Our new Flip Lock Carpet Knife is a simple, easy to use solution for today's carpet installers. Rather than flipping blades over to use multiple edges, you just flip and lock the head of this knife in position. You can get back to cutting right away. No blade flipping or handling of sharp blades. Just flip and go." said Bob Senesac, director of marketing for Personna's Industrial/Professional Division. 
According to Senesac, the innovations the company has slated for 2014 will be focused on blade improvements and ongoing "new news" for the carpet installation market. 
Personna is one of the largest producers of professional, medical, and industrial blades with manufacturing facilities in North America. The company's launch of the new Flip Lock Carpet Knife comes on the heels of the launch of Personna ArmorEdge Carpet Blades and the launch of the White Lightning Aluminum Fixed Blade Carpet Knife in August.