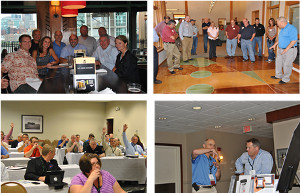 FCICA, the flooring contractors association, had a successful  2013 Mid-Year meeting.
Held at the Sheraton Station Square Hotel in Pittsburgh, FCICA welcomed 68 attendees on site, including contractors and associates with 11 being first time attendees.  
Mid-Year 2013 started off with ARDEX Americas offering a special training seminar to FCICA members. This special training took place prior to Mid-Year 2013 kickoff. The participants learned about SystemOne.  SystemOne training included both hands-on and classroom sessions designed specifically for flooring installation professionals. The participants also learned about ARDEX's complete line of moisture control products.  
After the special training concluded, ARDEX Americas offered all Mid-Year attendees a private tour of their Aliquippa Campus. The Aliquippa Campus houses one of three state-of-the-art powder producing facilities, along with the corporate headquarters for all of the Americas. During the tour, we visited the corporate offices, the newly constructed Marketing wing, the Technical Center, and of course the powder production facility where the ARDEX Feather Finish that has become so popular is made.  In addition to viewing the facilities, ARDEX had some product demonstrations planned that showed the products being mixed and installed, including panDOMO a decorative concrete system. ARDEX topped it off with some hands-on installation that provided a most interesting afternoon. 
The following day, four educational sessions were offered by leading flooring industry experts. These educational sessions ranged from Preparing and Verifying the Labor Estimate, Grout: Color and Cleaning, Concrete as a Flooring Option to Challenges of Planning the Job. Daniel Ortiz-Bacon was quoted saying "The FCICA organization provides an unparalleled opportunity to interact and learn from leading professionals in the flooring business in an extremely friendly and welcoming environment."
Chairman Gerry Swift stated "Once again FCICA put on a stellar event for mid-year. From installers to salespeople, owners, distributors and manufacturers; anyone who does business in the commercial floor covering sector needs to be part of FCICA.  FCICA is at the cutting edge of education and networking for anyone who is in the commercial floor covering industry."