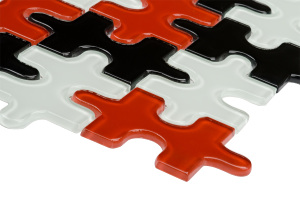 The new Crayola Recycled Mosaic Tile Collection includes a color palette that lends itself to creative swimming pool installations. The beautiful colors reflect those well-known, brilliant hues that characterize Crayola crayons, and formats are offered in traditional mosaic squares or in a unique "puzzle" glass tile combination. Many whimsical, fun color combinations are available including "Key Lime Pie" and "Puzzle."
Miami-based Surfaces, producers and suppliers of glass tile in conjunction with Crayola, the Easton, Pa.- based brand known for its iconic art tools that inspire kids' creative expression, is the exclusive national licensee of the Crayola Glass Tile Collection.
"Crayola is a wonderful, well-respected American brand-name," stated Albert Claramonte, president/founder of Surfaces. "The entire American pool environment, both residential or commercial, should be one of beauty, relaxation and fun. What better way to achieve this than by insisting upon the most all-American name in color, offered in a glass mosaic tile which is today's material of choice for cladding swimming pools?"