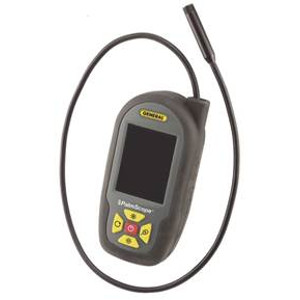 General Tools & Instruments' new PalmScope (DCS950) is a durable full-featured pocket-sized video inspection system.
The PalmScope's clamshell design allows the camera-tipped probe to be coiled safely and conveniently inside the device. Plus, it can be operated with one hand, leaving the other hand free to use tools. Retailing for less than $150, the PalmScope sets a new affordability standard and outshines competitors in utility, convenience and bang for the buck. It's ideal for busy techs, contractors and DIYers.
The PalmScope has countless HVACR and plumbing applications, such as detecting leaks and cracks in ducts and piping, inspecting for corrosion and deposit buildup, and reading hidden part and serial numbers. This cutting-edge precision specialty instrument offers a cost-effective way to visually inspect inaccessible or hazardous areas and diagnose hidden problems without disassembly or teardown. 
With just five control buttons—power on/off, brightness up, brightness down, video zoom and video flip— the PalmScope is user-friendly. The video zoom button allows the user to zoom up to 4X, increasing the odds of spotting elusive problems. The 180-degree video flip function makes it easier to read upside-down labels and serial numbers by instantly turning them right-side up. 
The PalmScope's easy operation is complemented by superior specs and safety features. The integral 2 ft. (.6m) long probe with a .35 in. (9mm) diameter camera tip enables users to maneuver in very narrow, tight spaces. It's also water-, oil- and dust-proof to IP67 standard. The camera offers a depth of field of 1 in. to 10 ft. (25mm to 3m) and a 60-degree field of view. Four LEDs on the camera head produce bright, crisp video on a 2.7 in. (69mm) high-contrast color LCD screen with 320 x 240 pixel resolution (QVGA). Featuring thermoplastic rubber (TPR) housing, the unit is certified drop-proof to a height of 3.4 ft. (1m). The PalmScope includes four probe tip accessories—45-degree mirror, pickup hook, magnetic pickup and thread protector—plus a nylon pouch with belt clip, a User's Manual and a 1-year limited warranty.
See General's new PalmScope (DCS950) at Booth 8152 at AHR 2014, January 21-23, 2014 at the Javits Center in New York City. The instrument will be on display and available for order.