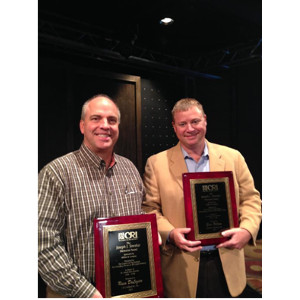 Recipients of the Smrekar Award: Russ DeLozier of J&J Flooring Group and Eric Nelson of Interface 
The Carpet and Rug Institute (CRI) held its Annual Membership Meeting on Wednesday, Nov 13 in Dalton. 
Treasurer Del Land reported a clean audit for the carpet manufacturing trade association and a 2014 budget of $2,925,550.00.
CRI Board Chairman David Jolly recognized incoming board members Marc Ammen, Universal Fibers; Andrea Greenleaf, Royalty Mills; Karel Vercruyssen, Beaulieu Group and Treasurer Jim Kirkpatrick, Shaw Industries. He thanked those officers whose terms were ending, including Ralph Boe, Beaulieu Group; Jack Ganley, Mannington Carpets; Franco Rossi, Aquafil and treasurer Del Land, Beaulieu Group. 
A highlight of each year's meeting is the presentation of the Joseph J. Smrekar Memorial Award. Established by Milliken & Company, the Smrekar award honors the late Dr. Joe Smrekar who served on a number of CRI committees. According to Steve Williams, chief financial officer for Milliken's floor covering division, Smrekar "set the standard" for service to CRI and the carpet industry. Following Smrekar's untimely death in 1998, Milliken established the award in order to recognize individuals who show similar exemplary service to the carpet and rug industry.
Recipients of the Smrekar award are chosen by CRI staff members, and this year, for the first time, there was a tie, which resulted in two award winners: Eric Nelson of Interface and Russ DeLozier of J&J Flooring Group. 
Eric Nelson is vice president of strategic alliances for Interface Americas. A graduate of Georgia Tech, Eric joined Interface in 2006 and has 15 years' experience in the fibers and carpet manufacturing industries. Mr. Nelson serves on the CRI Strategic Issues Leadership Council and is a member of the Caprolactam Advocacy, Landfill, and NSF-140 Task Groups as well as the EPR and CARE Panel. He is also active in the Carpet America Recovery Effort.
Russ Delozier is director of sustainability for J&J Flooring Group and oversees all aspects of the company's corporate sustainability. Another Georgia Tech graduate, Mr. DeLozier joined J&J in 2012. 
Delozier serves on CRI's EPR and CARE Panel and Landfill and NSF-140 Task Groups. He is also the longest serving carpet mill representative on the Carpet America Recovery Effort Board.
"CRI is as strong as its volunteers," said CRI President Werner Braun. "The carpet industry represents an incredible depth and breadth of talented people. In Eric Nelson and Russ Delozier you see two of the best. CRI is blessed by their energy and support."