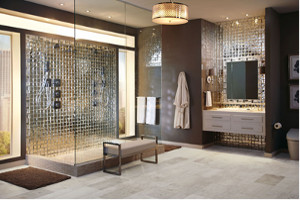 Crossville has introduced Sideview, a new glass mosaic wall tile collection inspired by design elements of the art deco period, the line features multi-beveling on the metallic-look mosaics. The beveling's dimensional effect enhances reflection of light, providing an opulent, upscale look for wall installations.
"Sideview is like jewelry for walls," Crossville VP of Marketing Lindsey Waldrep explains. "When you see how the mosaics sparkle and play with light, you can just picture them accessorizing the walls of a boutique hotel lobby or a powder room in a private home."
The collection comes in four metallic colors—tungsten, silver, gold and copper—each offered in high sheen and frosted finishes. The 3"x3" mosaics are mesh-mounted on 12"x12" sheets, allowing for ease of installation. Additionally, Sideview comes in a 3"x12" border and a 1⅛"x6" liner. These accent pieces can be integrated into wall designs as finishing trims for Sideview's sheet mosaics or mixed with other tile products or surfacing materials to create stylish accents.
Sideview is recommended for interior walls or covered exterior wall applications in commercial and residential settings. "This line is an attention grabber...a great option for a market that's ready for a touch of glam," summarizes Waldrep.
For more information on this collection, visit crossvilleinc.com.