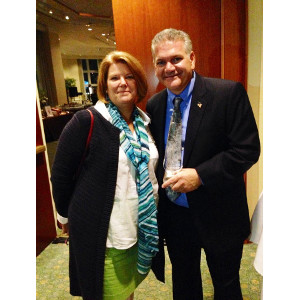 Cheryl Wilcox and Chris Zizza of C&R Flooring
C&R Flooring is the recipient of a 2013 Silver PRISM Award in the "Community Spirit" category by the Builders and Remodelers Association of Greater Boston (BRAGB). 
The PRISM (Prestigious Results in Sales and Marketing) Awards recognize the accomplishments of professionals who influence the present and shape the future of building and design. The biennial competition – the largest industry competition in this region - is open to builders, developers, project owners, architects, land planners, marketing/advertising firms, interior design firms, remodelers, and other professionals in the home building industry. The 2013 Awards Gala - held Oct 30. at the Seaport Hotel, Boston – celebrated the winners while also raising funds for Housing Families.
The Silver award received by President, Chris Zizza, recognized C&R Flooring for their extraordinary philanthropic outreach and community impact. Through C&R Flooring, Zizza provided materials, labor, and expertise to many charitable projects, including the Room to Dream Foundation and has helped various church organizations and community-based renovations, including Emanuel House in Boston, an inner-city youth center that was renamed the Peter Giambanco Gymnasium in honor of Zizza's grandfather. C&R also donated all the labor for a house renovation in Medfield, Md. featured on Extreme Makeover: Home Edition, installing 3,700 square feet of flooring in seven hours. 
Zizza also personally supports several charities including the Catholic Charities of Boston, The Rodman Ride for Kids, The Friends of the Valley Foundation (which he co-founded), and the National Italian American Sports Hall of Fame. He participated and received honors for his hurricane relief efforts in both Hurricane Katrina in Mississippi and Hurricane Irene in Southern Vermont. Also, in May 2013, Zizza was awarded the Ellis Island Medal of Honor. The prestigious medal is presented annually by the National Ethnic Coalition of Organizations (NECO) to American citizens who have distinguished themselves within their own ethnic groups while exemplifying the values of the American way of life. 
For over 25 years, C&R Flooring of Westwood, Md. has sold, installed, and refinished millions of feet of wood flooring for homeowners and contractors. Considered one of the region's most knowledgeable flooring companies with a professional and courteous staff, C&R is the first to bring dustless floor sanding to New England. Zizza founded Wood Flooring Inspectors of New England in 2004, and is a certified professional and on the Board of Directors for the National Wood Flooring Association (NWFA), which is the governing body for the wood floor industry in the United States.  
For more information on C&R Flooring visit their websites at www.candrflooring.com, www.dustlessfloorsanding.com, or www.wfiinspectors.com