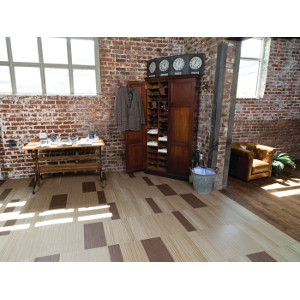 Tarkett introduces I.D. Freedom Luxury Planks and Tiles. With durability and low environmental impact, I.D. Freedom is ideal for new and retrofit commercial areas including hospitality, retail, corporate, education and healthcare, among other applications.  
I.D. Freedom is a range of planks and tiles that come in a variety of sizes, allowing designers the freedom to be creative in conceptualizing interior spaces. Its range of looks includes wood, stone, and abstracts. Easy to install and maintain, I.D. Freedom is a flooring solution with a hard-wearing reinforced polyurethane surface treatment, 20mil wear layer and 1/8" gauge. Also, I.D. Freedom is backed by a 10-year commercial warranty. 
I.D. Freedom has  designs that feel natural. From the traditional woods and stones to visuals like rusted sandstone, bamboo stalks made of steel and tiger-striped wood grain, I.D. Freedom takes inspiration from unexpected elements and combines them to make naturally unnatural designs.
"The luxury vinyl flooring market is crowded and with so many choices available selecting one product or brand can be challenging," said Jeremy Salomon, product manager for Tarkett. "But with I.D. Freedom, we have given designers the freedom to express their creativity. Our coordination capabilities are truly unmatched across all resilient flooring and accessories in the Tarkett commercial portfolio." 
Free to be Sustainable 
Tarkett's commitment to circular or "closed loop" design has led to its offering of environmentally responsible products. I.D. Freedom contains 53% pre-consumer recycled content and is FloorScore certified, contributing to good indoor air quality (IAQ). The product is also phthalate free, except for recycled material, offering end-users a safe and healthier solution. I.D. Freedom is manufactured in the United States and produced in an ISO 14001 certified manufacturing plant. 
For more information on Tarkett's comprehensive range of commercial flooring solutions, finishing borders and accessories, visit www.tarkettna.com.