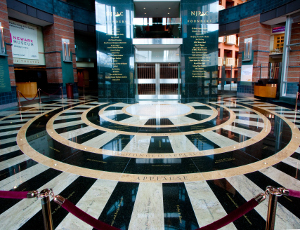 New Jersey Performing Arts Center
To celebrate the firm's 25th anniversary, Creative Edge Master Shop is now showcasing its signature worldwide waterjet projects via a 2014 calendar featuring project photography. 
In 1988, Jim Belilove and partner, Harri Aalto (president of Aalto Design, the sister company and creative arm of Creative Edge) demonstrated the results of utilizing high-pressure waterjet cutting technology in conjunction with high-end architectural design. Winner of industry awards, Creative Edge and Aalto Design have built a reputation for creating the "ultimate inlay floors" in tile and stone. Many times, dissimilar materials such as metal, glass and even semi-precious stones have been incorporated in these flooring masterpieces.
According to Belilove, "Even today, waterjet technology is only beginning to develop its full potential. Our Silver Anniversary Waterjet Calendar showcases both the beginnings of waterjet and its innovations/upgrades over time. We're thankful for the opportunity to create many of the world's 'ultimate inlay floors'… and even more importantly, excited about the growing appreciation of the waterjet design & fabrication process over these past 25 years for both commercial and residential projects."
To request a free copy of this calendar, which showcases select architectural projects and waterjet cutting features created by Creative Edge and Aalto Design over the past 25 years, log on to http://www.cec-waterjet.com/Contact/Calendar-2014.html.