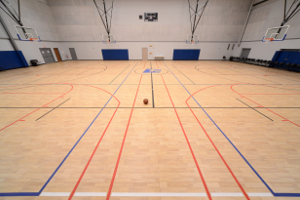 Everlast fitness flooring has introduced Bounce, a surface that features a vinyl wear layer bonded to a recycled rubber underlayment using Ecore's itstru technology.
This patent-pending process fusion-bonds the wear layer to a post-consumer recycled rubber backing. The result is flooring that looks like real wood, but is more economical, durable and easier to clean, while providing true sports performance characteristics. Everlast Bounce is manufactured by Ecore, a company where recycling meets original thinking.
Featuring a 2mm wear layer laminated to a 5 mm underlayment, Bounce is available in six-foot rolls and is ideal for multi-purpose areas, gyms, Group X training areas, and spin and team rooms. Bounce is available in three colors: Latte, Espresso, and Dark Roast. This surfacing has many benefits including that its:
• Hygienic because of heat-welded installation
• Quiet Underfoot
• Ergonomic
• Low maintenance due to a protective wear layer
• Customizable - Can paint lines on surface
• Fade resistant/wears well
• Easy-to-clean: vacuum or broom and damp mop
• Pro-performance – athletes perform better, longer, safer
• Sound and shock absorbent
• Durable
• Low life-cycle costs
To learn more about Everlast Bounce visit: http://everlastfitnessflooring.com/press-releases.php.