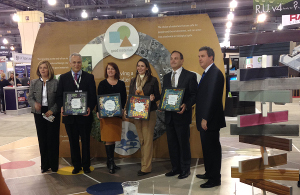 Participants of the Nationwide Children's Hospital project in Columbus, Ohio were recently presented with Tarkett's ReStart Award for returning a total of 53,170 pounds of flooring for recycling throughout the duration of the project.
Tarkett's annual ReStart Award honors the architect, designer, building owner, contractor/installer, and/or distributor whose project has successfully diverted the largest quantity of flooring from landfills using Tarkett's ReStart Recycling and Reclamation Program. Projects are tracked through the ReStart process and are the method used for determining winners. To celebrate the success of the Nationwide Children's Hospital project and efforts of the participants, Tarkett invited representatives from the hospital, architecture firm, installer and distributor to attend Greenbuild and provided airfare, lodging, ground transportation and dinner for each attendee. Tarkett formally presented the award during a special reception on Wednesday, November 20 in front of invited guests and media.  The award itself, designed by Nicole McGee, owner of Plenty Underfoot in Cleveland, was made using Tarkett's Johnsonite flooring scrap. 
Alisa Pinciotti, senior interior designer for Nationwide Children's Hospital, said "Attending the Greenbuild conference to receive the Tarkett Restart award was a great opportunity to reconnect with the team (designers, owners, suppliers and installers) and celebrate the collaboration that fulfilled the desired aesthetic and educated us all in the process of sustainable design. And, the award itself is an amazing piece of sustainable art, too!"
Kristin Ledet, senior vice president and interiors manager with FKP Architects in Houston continued, "It was such an honor to accept the ReStart award for the Nationwide Children's project. Thank you to Tarkett for bringing the full team together once again to recall all of the hard work and the efforts that went into such a successful project."
Nationwide Children's Hospital is one of the largest and most comprehensive pediatric hospitals and research institutes in the United States. The Hospital selected Johnsonite commercial flooring products to balance their aesthetic, functional and environmental objectives for the project. The intricate, complex and creative flooring design required a dedicated team working together to not only bring the vision to life, but ensure it was done in a sustainable manner.
"CDC Distributors was honored to have been invited to receive this award and it opened possibilities of other recycling opportunities with a network of dealers. I certainly believe that initiatives like ReStart are critical to the long term health of our industry," said Don Brickweg, vice president, commercial sales at CDC Distributors 
"It was awesome to experience Greenbuild and see the magnitude of the show," said Garry Ruick, president, Architectural Products at Continental Office Environments. "To receive an award at a show filled with people and companies who have a sharp eye on environmental issues was special. It helped bring validation to the ReStart program that Nationwide Children's Hospital, FKP Architects, Johnsonite, CDC Distributors and Continental Office worked so hard on to make successful."
Tarkett supports eco-innovation from processes to products and is dedicated to eliminating landfill. The Tarkett ReStart Reclamation and Recycling Program reclaims samples, products and installation waste. Tarkett looks at the economic, industrial and social frameworks that surround its products and constantly examines the methodologies and tools that allow it to reclaim and produce flooring.
For more information about the ReStart program or Johnsonite products, visit www.tarkettna.com.