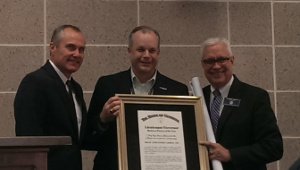 Shaw Industries was named the 2013 College and Career Academy Business Partner of the Year by Lieutenant Governor Casey Cagle at the 2013 Lt. Governor's Business and Education Summit.
"When it came time to select our first ever College and Career Academy Business Partner of the Year, Shaw Industries was an obvious choice," said Cagle. "Their commitment to and passion for improving the quality of education opportunities available to students in their local communities is a great testament to the values they live up to as a company and their commitment to ensuring that our next generation has the necessary skills to compete in the 21st Century global economy shines as a bright example for others to follow."
Shaw has always been a supporter of the Northwest Georgia Community but its business partnership with education has now taken that support to a new level.  Company representatives serve on the board of two College and Career Academies – Northwest Georgia College and Career Academy, serving students from Whitfield, Dalton and Murray Counties and Gordon County College and Career Academy.  Brian Cooksey, Director of Operations, Training, and Development, spearheaded the development of the Mechatronics Pathway and wrote the standards approved by the Department of Education for use across Georgia.   
"Shaw's vision is to create a better future for our people, our communities, our customers, and our company. Our partnership with the College and Career Academies directly impacts all four facets of that vision," said Vance Bell, CEO of Shaw Industries. "I'm incredibly proud of the Shaw associates directly involved in these efforts to develop a workforce of the future to foster economic prosperity for Georgia's communities."
Today, mechatronics is taught at Northwest Georgia College and Career Academy with 40 students starting the pathway. These students, and many more to come, will have the opportunity to complete post-secondary work in industrial systems and take advantage of work-based learning opportunities at Shaw and other manufacturers.  Shaw Industries has devoted countless hours to support the work of College and Career Academies. The company understands the return on investment: a highly skilled and successful student ready for work in its industry.