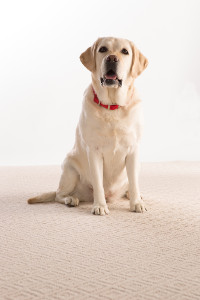 "Mo", the face of Mohawk's SmartStrand Unleashed Campaign
Mohawk continues to put the soil- and stain-resistance benefits of SmartStrand carpet to the test. Now that SmartStrand has successfully taken on zoo animals, messy kids and a cross-country tour of squirts and spills, Mohawk is going toe-to-toe—or paw-to-paw— with "Mo", a messy, four-legged yellow lab, in some of the most unpredictable and unscripted moments ever.
Mohawk is launching its 2014 national campaign, SmartStrand Unleashed, with Animal Planet's Puppy Bowl X, airing during the Super Bowl on Sunday, Feb. 2, 2014. More that 10 million viewers will tune in to watch the all-star cast of canine contestants compete on the grand gridiron of Animal Planet Stadium. As the official carpet sponsor, Mohawk will promote its SmartStrand carpet on air and will also implement a digital campaign, inviting fans to Instagram a photo of their dog watching Puppy Bowl X for a chance to win a dog-bone shaped SmartStrand bound carpet. 
"SmartStrand is truly a pet-friendly carpet," says Elise Demboski, vice president of creative services for Mohawk. "It has built-in stain and soil protection that never washes or wears off, so it can easily stand up to pet messes. Pets also love the luxurious softness of SmartStrand Silk, which is also healthier since it isn't topically treated and can be cleaned with just water or a mild detergent."
In addition to on-air promotion, Mohawk is participating in a "live" Puppy Bowl Expo hosted by Discovery Communications, the parent company of Animal Planet. The expo, which will be held right off Times Square in New York from Jan. 26 – Feb. 1, 2014, will be open to the public. Visitors will experience a real ruff-'n-tumble Puppy Bowl game and meet Mohawk's "Mo", who will have his own photo-op area within the interactive venue.
Mohawk's SmartStrand will be fully integrated throughout the Puppy Bowl Expo. Not only will SmartStrand serve as the field carpet, the product will also be installed throughout the 15,000-square-foot facility. There will be a lot of Animal Planet excitement and interactive activities during the highly promoted, weeklong event. Mohawk will be present throughout the week to introduce attendees to Mo, pass out SmartStrand samples and communicate the benefits of the carpet. Fans who are unable to attend the Puppy Bowl Expo can view all of the excitement on Animal Planets' "live" webcam, which will be exclusively sponsored by Mohawk.
The Puppy Bowl is just the beginning of Mo's adventures. In January, Mo will make his debut as the world's first canine correspondent on The Better Show, a nationally syndicated lifestyle and entertainment program airing to one million viewers every weekday. Mo will be a regular on the show throughout 2014 and will have his own 12-series webisode, called "Mo's Next Mess." In addition to generating excitement for SmartStrand, Mo is raising awareness for pets in need through Mohawk's partnership with the Petfinder Foundation. In support of the partnership, Mohawk is donating $2 for every "like" the company receives on its Facebook page.
Mohawk Aligned retailers will benefit from the fully integrated campaign, which is designed to generate powerful consumer leads. In addition, Mohawk is supporting retailers with SmartStrand Unleashed point-of-sale kits, advertising tools, social media content, digital banners, customizable press releases and fully loaded event kits. 
To learn more about Mohawk's participation in Puppy Bowl X, Puppy Bowl Expo and the SmartStrand Unleashed campaign, visit MohawkFlooring.com/Unleashed.