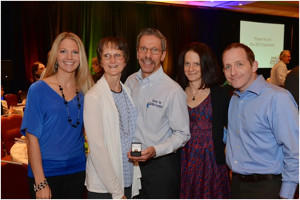 Left to right: Elisa Carothers, Debbie Carothers, NTCA Ring of Honor recipient Scott Carothers, Laura Carothers Graham, Joe Graham
Scott Carothers, Ceramic Tile Education Foundation (CTEF) director of certification and training, has received the National Tile Contractors Association (NTCA) Ring of Honor for his service to the tile industry and to NTCA.
The award was presented to Carothers by NTCA president Dan Welch at the industry-wide awards luncheon during Total Solutions Plus in Bonita Springs, Fla.
The prestigious Ring of Honor recognition is given to professionals who have made a difference in the tile industry and who have devoted years of support to the NTCA's strategic initiatives. Past recipients include representatives from all segments of the tile and stone industry.
Carothers' career in the tile industry spans almost 36 years. Prior to joining CTEF, he was owner of Long's Tile Company, Altoona, Pennsylvania, for 26 years. He served on the NTCA Board of Directors for 12 years and was president of NTCA from 2003 to 2005. He was a member of NTCA's Technical Committee for 15 years and was chairman of the committee for 5 years. 
"I have worked closely with Scott Carothers since I joined NTCA in 2001," said Bart Bettiga, NTCA executive director. "His passion for the industry, specifically in relation to training and education for the proper installation of ceramic tile, is unequaled. His numerous years of dedication to NTCA, his can-do approach to leadership and service, and his team approach strongly qualify him to receive the Ring of Honor," Bettiga said. 
Carothers joined CTEF in 2007, where he developed the Certified Tile Installer Program (CTI), which will soon reach the milestone of 1,000 professional certifications. In addition, Carothers has worked closely with other leaders of tile installer organizations to develop and implement the Advanced Certifications for Tile Installers Program (ACT), which takes certification to the next level and focuses on specific installation skills in unique applications. Carothers is well known for his dedication to bringing skills testing to locations across the U.S., allowing good, knowledgeable tile installers to verify their skills, acquire certification and provide industry-recognized proof of their professionalism. 
Carothers noted, "CTEF's programs are unique. Its curriculum is based on practical applications, ANSI standards, and the TCNA Handbook for Ceramic, Glass, and Stone Tile Installation. NTCA recognizes the importance of certifying tile installers and improving the quality of our trade.
"I am extremely honored by this recognition, and humbled by the fact that I am joining the ranks of others who have so tirelessly served our industry," Carothers concluded. "Both the CTI and ACT programs build on the work initiated by previous recipients, and I look forward to continuing our industry-wide efforts to promote the use of tile in construction through the recognition of our skilled workforce."