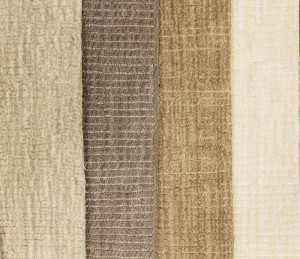 Antrim's Burkridge 
Antrim Carpet is introducing high end decorative hand woven carpets and rug features in new styles for Surfaces 2014. All products below are produced in a unique 15' width to reduce wall to wall seams as well create the opportunity for larger seamless area rugs. 
Formosa 
Formosa boasts a wonderfully dense and tonal all wool textured loop leaving the berber look in the dust. Hand woven and all wool construction make this a designer favorite.
Thacher 
The phenomenally tailored Thacher is constructed with wool and viscose in eight stylish colors. This ribbed pattern, gives it a dimensional linear look with a well-balanced silk-like luster, making it diverse and good looking enough for any room in the home.
Palermo
Another new hunky style is Palermo, a contemporary tip sheared carpet with a fresh clean aesthetic, available in five updated earth tones. Constructed with 100% wool and hand woven.
Colburn
Colburn is stunning with its level rounded all wool loops perfectly complemented by tonal viscose loops running parallel among solid neutrals, the perfect silver rounded off with taupe and blue. Colburn is so good looking and versatile it will be used for both transitional and traditional.
Burkridge 
Burkridge sports subtle yet sophisticated striations across a tightly woven width wise ribbed construction. Soft fantastic hues hand woven of all polysilk will make this style an instant classic.
Auburn
Highlighting a soft and luxurious random cut and loop, Auburn expresses bolder colorations in this fun and playful product that will take any interior to another level. Auburn is hand woven of 100% polysilk.
At Antrim we continue to pave the way for unique, densely hand woven products making Antrim the essential source for Naturally Green and high quality styled broadloom and will suit all your needs.