Breaking Flooring News
TalkFloor News
NKBA 2014 Executive Committee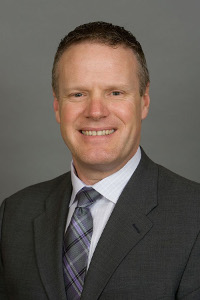 Newly elected NKBA 2014 Executive Committee President, John A. Petrie
The National Kitchen & Bath Association (NKBA) has announced its 2014 Executive Committee, which will be led by 2014 President John A. Petrie, CMKBD, of Mechanicsburg, Pa.
The following is additional information on the 2014 NKBA Executive Committee members.
President ­– John A. Petrie, CMKBD, Mother Hubbard's Custom Cabinetry, Mechanicsburg, Pa.
John A. Petrie, CMKBD, has been working in the kitchen and bath industry since 1987, designing custom kitchens, bathrooms, home offices, wine cellars and home theaters. His early education was in architectural design, but his defining specialty and advanced training have been in kitchens and baths. He is the owner of Mother Hubbard's Custom Cabinetry in Mechanicsburg, PA. John has served the Susquehanna Valley Chapter of the NKBA as Treasurer, Vice President of Communications, President, and Chapter Representative. During his tenure on the NKBA Board of Directors, he has served on numerous committees and chaired several task forces. John and his father, Les Petrie, CMKBD, have both been leaders in the NKBA, with Les serving as President in 2003. This distinction marks the first-ever, father-and-son presidencies for NKBA.
President-Elect – Maria Stapperfenne, CKD, CBD, Tewksbury Kitchens & Baths, Whitehouse Station, N.J.
Maria Stapperfenne, CKD, CBD, started her career in kitchens and baths in 1992, becoming a Certified Kitchen Designer in 2005 and a Certified Bath Designer in 2006. She is the Manager of Tewksbury Kitchens & Baths, a division of Huston Lumber & Supply Co. She has a Bachelor of Arts from Trenton State College. Maria has been active in the Northern NJ Chapter, serving as President, Secretary, VP of Technology & Communications, and Chapter Representative. She has served as a Region Director, member of the Board of Directors, Certification Test Validation Committee, Nominating Committee, Industry Segment Task Force, Development Task Force, Governance Task Force, and most recently as a judge for the NKBA Design Competition.
Vice President – Ric Coggins, CGP, CAPS, NCT, Bosch, Thermador, Gaggenau Home Appliances, Mesa, Ariz.
Ric Coggins, CGP, CAPS, NCT, has been connected to several aspects of the kitchen and bath industry since the 1970s. His industry experience includes designing kitchens and baths in new-construction homes, owning a dealership that sold and serviced kitchen appliances, managing operations in multiple states for a regional kitchen appliance distributor, and for the past 10 years, working for the international appliance manufacturer BSH, advancing through a number of sales and marketing roles. German-trained in adult education techniques, Ric is a national speaker and CEU presenter. His NKBA service includes holding the chapter offices of Strategic Planning Chair, VP Programs, and Chapter President. His NKBA national volunteer service includes Green Task Force, International Ad Hoc Committee, Advisory Council of Manufacturers and Suppliers, and Board of Directors.
Treasurer – Denise Dick, CMKBD, Signature Kitchens by Design, Carrollton, Texas
Denise Dick, CMKBD, has been active in the kitchen and bath industry since 1984 as a designer, trainer, training development writer and consultant. In 2002, she opened Signature Kitchens by Design, a full-service conceptual design agency that offers design, planning and comprehensive management of remodeling projects. She has been active in her NKBA chapter from the beginning, serving as President, VP of Technology and Communications,VP of Membership, Secretary and Chapter Representative. Denise was also a judge for the local NARI Contractor of the Year Awards. She has served on the national NKBA level as a Region Director, member of the Board of Directors, the Education Task Force, the CKBP Certification Committee, the CKBP Exam Blueprint Specification Committee, and as a test writer for the CKBP exam.
Secretary – Debra Robinson, CMKBD, Kitchen Expressions, Sheffield, Ala.
Debra Hensley Robinson, CMKBD, is the principal of Kitchen Expressions, located in north Alabama, and brings more than 26 years of national and international kitchen and bathroom design expertise. In addition to serving as an independent kitchen and bath designer in Houston, Robinson has worked as a design director for Expo Design Center in that city and as an adjunct faculty member at the University of North Alabama. She earned her Certified Kitchen Designer designation in 1995, her Certified Bathroom Designer accreditation in 2006, and her Certified Master Kitchen & Bath Designer designation in 2009. She has helped lead the NKBA Ohio and Alabama chapters in such roles as VP of Endorsed Programs, VP of Professional Development, and Chapter Representative. At the national level, Robinson served as Treasurer of the 2013 Executive Committee, Region Director, member of the Board of Directors, Board of Chapter Representatives, Membership Task Force, Chapter Funding Task Force, and the CEO Search Committee, as well as several other committees. Over the years she has won numerous awards, been featured in trade publications, and judged multiple design contests and charrettes.
Immediate Past President – John K. Morgan, Morgan Pinnacle LLC, Reisterstown, Md.
Having been a featured conference speaker at previous Kitchen and Bath Industry Shows and invited to speak at over 100 industry events, John Morgan is well-respected for his work helping kitchen and bath professionals evolve their businesses through the latest in technology. He is a 20-year kitchen and bath veteran. A manufacturer's representative, consultant, trainer and speaker, he has served on the advisory councils of many industry manufacturers as well as Virginia Tech. Morgan authored the popular "Rep's View" column in Kitchen & Bath Design News for nearly a decade, and currently represents nationally known cabinet and technology companies through his Baltimore/ Washington-based agency, Morgan Pinnacle. In 2013, John Morgan proudly served the kitchen and bath community as the NKBA President.
For more information, visit the NKBA Press Room


I want to hear from you. Tell me how we can improve.