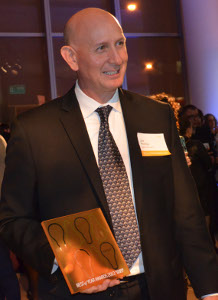 Luxe Linear Drains President, Joe Phillips 
Luxe Linear Drains President, Joe Phillips  was recently a top finalist in the "Bath Hardware" category at the annual "Best of Year" gala awards ceremony hosted by Interior Design to recognize the top new products and projects of the year.
Interior Design president Mark Strauss and editor in chief Cindy Allen revealed the winners in 90 categories, including several new market segments in one of the closest and most surprising events in recent memory. Interior Design gathered close to 1,000 members of the architecture and interior design community together this year. Gehry's first New York building was also a huge draw. The 10-story, 130,000 square-feet building features cold-warped steel and sloped concrete columns interior clad completely with an architectural glass curtainwall. 
Luxe Linear Drains are prized by architects, interior designers, custom home builders and bath pros for all residential or commercial projects. Luxe Linear Drains are manufactured using architectural-grade, 100% stainless steel in decorative patterned grate options, linear tile insert trays and decorative square replacement drains and insert trays for modern, stylish custom showers. Luxe Linear Drains also provides interior designers in large-scale healthcare, senior living, hospitality or casino resort-type projects a stylish option for creating barrier-free, curbless, ADA-compliant custom showers.