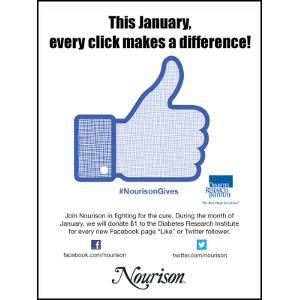 Starting January 2nd and running through the month of January, Nourison has launched a social media donation campaign to help fund the research efforts of the Diabetes Research Institute (DRI) to help find a cure for diabetes. Nourison is donating $1 to the Institute for every new "Like" or follower on the Facebook and/or Twitter page. There is also a chance to win a rug and pillow coordinate. 
"Nourison and the Peykar family have been strong supporters of the Diabetes Research Institute for a long time," said Thomas Itty, marketing director of Nourison. "Our goal is to raise awareness and highlight the significant progress of organizations such as the DRI." 
"This is a wonderful opportunity to expand what it means to have a voice for a cause by utilizing social media," said Brooke Feldman, digital marketing coordinator of Nourison. "DRI and our team are very excited to collaborate on posts to make this informational and fun for each of our followers." 
To participate in the campaign, "Like" the Nourison Facebook page, or "follow" the conversation on the Twitter feed. Help spread awareness by using the hashtag "#NourisonGives". 
To donate directly to the Diabetes Research Institute, visit www.diabetesresearch.org.