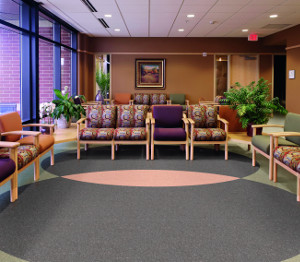 Adore Floors has launched Adore Context, a new commercial flooring line designed to meet the needs of the healthcare and education communities.
Adore Context is a flexible, homogenous, heat-welded sheet vinyl flooring engineered for enduring aesthetics and the promotion of a healthy and clean environment. Manufactured with polyurethane (PUR) and BioSilver technology, the collection is suitable for healthcare and education including hospitals, operating theaters and any high traffic setting where clean management is preferred. 
Adore's Director of Specifications, Beth Steele, and Technical Director, Kelly Mortensen, collaborated with the factory on the design and engineering of this new line. Steele began her 20+ year career in commercial flooring as a designer, and  Mortensen is known throughout the flooring industry as a leader in technical consultation and resolution. As a result of this collaboration, Adore Context is available in 24 popular, contemporary colors with high quality patterning, and it meets the standards of specifications and requirements necessary for sterile environments. 
Inclusion of this product in Adore's collections adds another dimension to the manufacturer's commercial resilient flooring options including: Decoria, commercial and light industrial glue-down planks and tiles, Adore Touch and Adore Touch Contract, floating click-installation LVT appropriate for commercial and light industrial, and Naturelle, a light commercial glue down option. 
All of Adore's LVT floors feature advanced technologies apropos to the needs of healthcare space. Technologies include Nano-Silver, an anti-microbial treatment to the surface layer of our flooring, MicroCeramicTM and DuramondTM, both silica-based technologies that work to fortify the wear layer and surface layer for long-lasting flooring.
For more information on Adore Floors, visit www.adorefloors.com