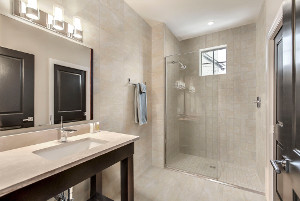 Florida Tile's Craftsman DP line has been expanded to include 6x6 and 12x24-inch floor and wall tile sizes. 
"The new larger formats will be offered in all three colors, Biscuit, Rye and Wheat," said Sean Cilona, marketing manager for Florida Tile.
The 12x24 format is already in inventory, and the 6x6 will be available by late January. Additional trim pieces for Craftsman will include a 6x6 bullnose and bullnose corner. The collection already is offered in 12x12 and 18x18 sizes, 12x12 mosaics and coordinating bullnose and listellos.
The Craftsman DP line features a smooth flat surface, ideal for residential or light commercial applications. The look is inspired by the hard-working and highly skilled craftsman of the early 20th Century who shaped the buildings we live and work in today. Introduced in the fall of 2012, Craftsman DP which captures that look and work ethic has quickly grown to be one of the company's top sellers, according to Cilona. 
"This line designed by Florida Tile, embodies these same qualities of contemporary design, extraordinary craftsmanship and the American spirit those people and of that time period capturing the classic Marble style of the day," Cilona said. "As the name implies, the graphics are achieved by using Florida Tile's proprietary DP-Digital Porcelain imaging technology," Cilona added. "With up to 20 different graphics per color in the 12x12 alone, this line features the realistic shade variation of the most modern decorating lines available."
Made in the USA, the Craftsman DP line is GreenGuard Certified, contains 40% recycled content and meets the new DCOF AcuTest to be installed in wet areas. 
For more information visit www.floridatile.com