IVC to Build Largest LVT Plant in U.S.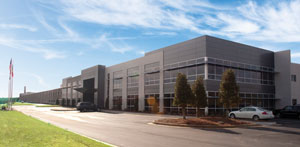 Due to the success of its first U.S plant, IVC has announced plans to open a second luxury vinyl facility in Dalton.
Dalton—IVC has announced plans to build its second flooring facility in the U.S. Like its first one, this one will be for the production of luxury vinyl tile (LVT) and luxury vinyl plank (LVP), and according to the company it will have the largest capacity in North America.
The $80 million project is anticipated to be completed and fully operational during the first quarter of 2015. The 300,000 square foot facility is projected to create in excess of 200 jobs. In addition, building the new plant in the United States will also mean that 100% of IVC US LVT will be American made.
"The facility is following the success of IVC's LVT investment in Belgium, which was opened in 2012, as well as the first resilient plant it built here in 2011.
The strong and consistent demand for LVT in the marketplace has solidified IVC's need for a second plant investment," noted Xaver Steyaert, co-CEO of IVC US.
For more about IVC and its products and U.S. operations, call (706) 529-2600 or visit ivcgroup.us.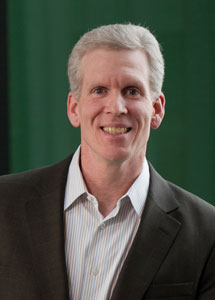 Frank Ready
Ready Retires From Armstrong
Lancaster, Pa.—After a successful 30 year career, Frank Ready, CEO of Armstrong Flooring Products retired.
Thomas Mangas, who has served as Armstrong's CFO since 2010, leading the company's finance as well as information technology, global business services and process improvement, has succeeded Ready, noted Matthew Espe, CEO of Armstrong World Industries.
Succeeding Mangas is David Schulz, who joined Armstrong in June 2011 and most recently serviced as vice president of finance for Armstrong's Building Products division.
Espe noted Ready's dedication and contributions to the company "will be felt for years." In naming Mangas as the new head of the flooring division, he said, "We have a well seasoned leader, whose global mindset and customer focus will enable our flooring business to fully leverage recent investments and have a bright future."
For more about Armstrong, call (717) 397-0611 or visit armstrong.com.
Boa-Franc Awarded
for Stellar Business Practices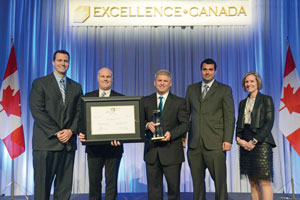 From left, Boa-Franc's Brad Williams, Luc Robitaille, Jacques Beaudoin and Jean-Pierre Thabet, and Sandy Delamere of Excellence Canada. 
Saint-Georges, Quebec, Canada—Boa-Franc, maker of the Mirage brand of hardwood flooring, received a Gold Trophy award in the Quality category at the 2013 Canada Awards for Excellence. The award is given from the Canadian government to a company for successfully applying best business practices, organizational excellence, achievements and outstanding results.
"We accept this prestigious award on behalf of all our clients, suppliers, and employees, who share our dedication and understand the importance our company has placed on quality since its founding 30 years ago," said Jacques Beaudoin, Boa-Franc's executive vice president and CEO.
In other news, Boa-Franc's president, Jean-Pierre Thabet was the recipient of the 2013 Lifetime Achievement Award from the National Association of Floor Covering Distributors (NAFCD) for his exceptional leadership and contributions to the floor covering distribution industry. (Editor's Note: For more about this award, see the NAFCD convention story in our digital edition).
For more about Boa-Franc and its Mirage brand, call (800) 463-1303 or visit miragefloors.com.
Braun to Retire from CRI in March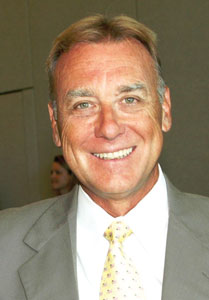 Werner Braun
Dalton— Werner Braun, the president of the Carpet & Rug Institute (CRI), announced he will retire from the organization at the end of March after 14 years of service with the carpet industry's main association.
Braun came to CRI in 2000 from the Chlorine Chemistry Council, where he served as the senior director of international relations. Prior to that, his career included 31 years in analytical chemistry at The Dow Chemical Co.
"Werner has been a stalwart defender and promoter of the carpet industry throughout his time at CRI," said David Jolly CRI's chairman. "His depth of knowledge on technical issues, combined with his strengths at issues management and consensus-building, have made him an extremely effective leader for CRI. Werner has set a high bar for his successor."
After retirement, Braun said he plans to continue living in Dalton with his wife and children and to be an "active community volunteer."
For more about CRI, call (706) 278-3176 or visit carpet-rug.org.
FCICA Mid-Year Meeting a Success
Pittsburg—With 68 people in attendance, including 11 first-timers, the 2013 mid-year meeting of the Flooring Contractors Association's (FCICA) was deemed a success.
Helping to contribute to the event's success was a special training seminar presented by Ardex Americas, which taught participants about SystemOne as well as Ardex' line of moisture control products. The session included both hands-on demonstrations along with traditional classroom seminars and a tour of the company's Aliquippa, Pa. campus.
Four other educational sessions were also presented during the meeting. Topics included: "Preparing and Verifying the Labor Estimate;" "Grout: Color and Cleaning;" "Concrete as a Flooring Option" and "Challenges of Planning the Job."
"Once again FCICA put on a stellar event for mid-year," said FCICA chairman Gerry Swift. "From installers to salespeople, owners, distributors and manufacturers, anyone who does business in the commercial floor covering sector needs to be part of FCICA."
He added the organization is at the "cutting edge of education and networking for anyone who is in the commercial floor covering industry."
To learn more about FCICA, call (248) 661-5015 or visit fcica.com.
Shaw Opens Full- Service Health Center
Dalton—Shaw Industries has opened the Shaw Family Health Center, a full-service health center here. The facility is operated by QuadMe, and began receiving patients in late October.
 The center serves Shaw associates and dependents covered by the mill's medical plan, providing a full spectrum of services including acute care, routine physicals, immunizations, preventive screenings, lab work and wellness services.
It is staffed with medical professionals including a physical therapist, athletic trainers, a wellness coordinator, registered dietician and certified diabetic educator, all of whom work in close collaboration with the doctor and nurse practitioners on-site. The facility will also refer patients to local specialists within the community.
"The Shaw Family Health Center is intended to provide Shaw associates with convenient and affordable healthcare options," said Paul Richard, Shaw's vice president of human resources. "We want to provide our associates with resources to make informed decisions—designing a sensible diet plan, incorporating exercise, for example—that will lead to better health. This facility is part of our focus on creating a better future for our associates and their families."
In other news, Shaw recently completed the installation of solar panels on the roof of its carpet tile manufacturing facility in Cartersville, Ga. The solar array is expected to produce approximately 1.4 million kilowatt hours (kWh) of power annually—enough to power approximately 100 homes in Georgia each year. Feeding into the Georgia Power electric grid, Shaw will use this renewable energy to help power its Plant 15 (also known as Plant X).
For more about Shaw, its health center or the solar panels, call (888) 742-9932 or visit shawfloors.com.
Karndean Celebrates 40 Years by Giving Back
Export, Pa.—This fall, Karndean Designflooring kicked off its 40th anniversary as a luxury vinyl flooring company and Ed Perrin CEO, said as part of the celebration it is giving back to the communities it serves.
As part of the effort, Karndean took to social media for "40 Free Floors for 40 Good Causes" on its Facebook page. The campaign calls on users to nominate charities they think deserve to win a free Karndean floor, up to 1,500 square feet.
There will be 15 worthy winners chosen from the U.S., which employs half of the company's workforce. Five of the winners will be handpicked by Karndean and the other10 selected from submissions via Facebook.
Starting early this year the company is paying homage to Great Danes like Smokey the dog, Karndean's mascot on its logo, by pledging $1 for every Facebook 'like' up to $5,000, which will be donated to the Pennsylvania SPCA.
Emil Mellow, Karndean's vice president of marketing, said "Our 40th anniversary as a global company is a great achievement and we decided the best way to celebrate is to give back to our customers and help a variety of excellent causes in the communities we serve. As a global brand, we have many more exciting plans to continue to highlight our anniversary year."
He noted, despite being 40 years old, Karndean has continued to reinvent itself over the years, from creating a presence on social media to remaining technically savvy. As an example, he pointed to the company's new app for iPhone and iPad users, which was developed using cutting edge Augmented Reality (AR) technology. The interactive app allows customers to create a realistic, digital representation of their space with the flooring of their choice in real time.
"We live in an 'on-demand' society," he noted, "and our customers are looking for fast solutions at their fingertips."
To learn more about Karndean and its 40th anniversary celebration, as well as its new app, call (888) 266-4343, or visit karndean.com.
Milanowycz Inducted Into CDTA's Hall of Fame
Lexington, Ky.—Dave Milanowycz, director of sales for Florida Tile, was named the 2013 Ceramic Tile Distributor's Association (CTDA) Hall of Fame inductee.
The award is given annually to an industry professional who has demonstrated significant contributions to not only CTDA but also to the industry in general.
Milanowycz, who has been with Florida Tile for over 20 years, was recognized for his active involvement in CTDA and for providing leadership and sales guidance.
Florida Tile officials said he is respected by the company's entire customer base for his "excellence in training and face-to-face field time with showroom personnel and outside salespeople."
For more about Florida Tile, call (859) 219-5200 or visit floridatile.com. To learn more about CTDA, call (800) 938-2832 or visit cedahome.org.
Bostik Launches New Brand Positioning with 'Smart Adhesives'
Wauwatosa, Wis.— To help strengthen the company's global visibility, Bernard Pinatel, Bostik's chairman and CEO recently unveiled a new branding strategy for the adhesives manufacturer.
Using the tagline, "Smart Adhesives," he said it reflects the company's position on "developing intelligent and innovative adhesive solutions."
The new logo features a gecko, which is known for its bonding abilities that allow it to cling to most surfaces, run up polished glass and support its entire body weight with a single toe.
Pinatel said the gecko logo symbolizes the company's "smart adhesive solutions that are flexible, efficient and adaptive. The new logo reflects who we are. We are a technology leader that has been developing innovative adhesive solutions for more than a century. We know how to make smart adhesives—functional products that can do a lot more than just stick things together."
To learn more about Bostik's new branding strategy, call (800) 726-7845 or visit bostik-us.com.
RFCI's New Website Designed to be an Educational Resource
LaGrange, Ga. - The Resilient Floor Covering Institute (RFCI) has introduced a newly updated website, rfci.com, that is designed to be a go-to resource for retailers, distributors and manufacturers as well as specifiers, consumers and media when it comes to resilient flooring.
Dean Thompson, RFCI's president, said the revamped site features expanded industry information, user-friendly info-graphics and responsive design that allows easy navigation on any computer or mobile device.
"The website is an all-inclusive, easy-to-use resource for anyone specifying, purchasing or researching resilient flooring," he explained. "Information will be added on a weekly basis, so it will always provide dynamic, up-to-date coverage and informative stories and photography."
Thompson added the user-friendly site presents information on sustainability and product standards using info-graphics. It also clearly explains sustainability standards such as NSF/ANSI 332, Environmental Product Declarations, FloorScore and Product Transparency Declarations in understandable terms.
A News Center section includes industry announcements as well as published articles relevant to the flooring industry, and an Idea Gallery allows users to search through manufacturers and easily scroll through product offerings, he said.
RFCI worked closely with its member companies, who represent the vast majority of resilient flooring sales in North America, on the development of the new website, Thompson noted.
To learn more about RFCI or the new website, visit rfci.com.
Mapei Creates App for Contractors
Deerfield Beach, Fla.—Mapei has created a free app for tablets and smart phones that allows users to quickly acquire product information they can explore and email to themselves or a colleague, including product listings by line, technical and safety data sheets and ancillary data.
Steven Day, operational marketing manager for Mapei Americas, said the locator tool on the main page of the app allows contractors to "easily locate distributor and retailer locations carrying the products that interest them."
Mapei's grout color palettes are also a feature of the app, he added, giving tile installation contractors the opportunity to discuss grout colors with their customers by just tapping the screen.
Day noted, contractors can also efficiently get corporate information, and technical and customer support via direct email from the app.
The Mapei app is now available in the app stores for both Apple and Android products.
To learn more about Mapei or the new app, call (800) 426-2734, or visit mapei.com.
Tile Contests Call for Creativity
Miami—Tile of Spain has launched the 2nd "Passport to Creativity" contest. The competition offers three architects and interior designers the opportunity to win a free trip to Spain Feb. 9 to 15 to participate in an architectural excursion and earn CEU credits.
Contest winners will also attend Cevisama 2014.
Tile of Spain is asking architects and interior designers to submit a picture of themselves with Spanish Tile to enter. They can be holding a catalog, picture or even sample of Spanish tile. The theme is to be creative and have fun.
For rules, visit tileofspainusa.com/contest.
Similarly, Ceramics of Italy is calling all North American architects and designers who use Italian ceramic tiles in one of three categories for a chance to win cash and other prizes.
The organization is asking people to submit imaginative architecture projects in Institutional, Residential or Commercial/Hospitality Spaces.
Winners in each category will receive $4,000 and a five-day trip to Bologna, Italy, to attend Cersaie 2014—the world's largest exhibition of ceramic tile and bathroom furnishings.
Ceramics of Italy will award an additional $1,000 to the winning contractor/distributor team in each category.
To learn more, visit tilecompetition.com.