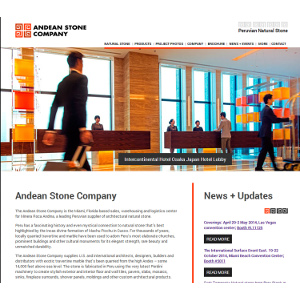 Peruvian supplier of architectural natural stone, Andean Stone Company has introduced a revamped, user-friendly website for 2014.
The new website is a modernized, stylish upgrade designed by Fernando Venturello of OWEUX in collaboration with Raul Flores of Make it RF. The website copy was provided by Eric Carson of Blueprint Global Media. After consultations with Andean Stone, the goals for the new site were to make it easier for its existing global distribution network to use, as well as to showcase in better light its rare, exotic and beautiful architectural natural stone, including the many applications it can be specified for in this progressive, innovative and modern era of building design and construction. Andean Stone's global distribution network includes multiple locations in the United States, Canada, the Caribbean, Latin and Central America, South Korea, Japan, Russia, Italy and several other locations across Europe. 
Andean Stone provides architects, designers, builders, installers and wholesale distributors the opportunity to work with the rare, exotic and beautiful natural stone materials found abundant throughout Peru.
Click here to visit the new website.