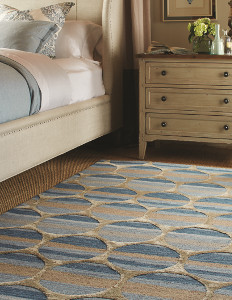 Capel Rugs' Tuscan Sun in 475 turquesa (style 9196) was among this year's winners of the America's Magnificent Carpet Awards, presented Jan. 10 during an event for rug show attendees at the Hyatt Regency during the Atlanta International Rug Market. 
Created in partnership with textile designer Kevin O'Brien, Tuscan Sun won the hand tufted category for rugs in the less than $8 per square foot price range. The collection received much recognition from buyers and the media during the fall rug show in Atlanta at AmericasMart. 
"The seventh sunset in Tuscany was as beautiful as the first six, and after a week I had a sketchbook full of paintings of suns hovering over lush layers of landscape," said Capel licensee and partner Kevin O'Brien. "Winning the award for a rug based on these paintings is as rewarding as any of those evenings in Italy." 
America's Magnificent Carpet Award entries were showcased in the Museum of Introductions Gallery at AmericasMart, Jan. 8-11. Winners of the America's Magnificent Carpet Award were chosen by: Annette Joseph, an expert on entertaining, cooking and styling who regularly appears on The Today Show; interior designer Darcy Adler and Sharian Garner of Oriental rug dealer Sharian Rugs. 
"We continue to think outside the box with our designs and with our marketing efforts," said Allen Robertson, vice president of sales. "The amazing response we've received for our new collections, including this award, make us more confident about our growth in 2014."