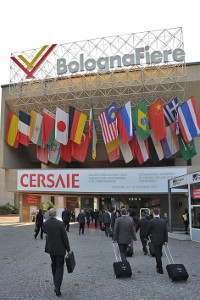 Confindustria Ceramica and BolognaFiere have signed an agreement regarding the organization of the next three editions of the International Exhibition of Ceramic Tiles and Bathroom Furnishings. 
The agreement confirms the Bologna exhibition centre as the show's venue and establishes the dates for the three year period 2015 – 2017, which as usual will be between the end of September and the first week in October.
The agreement also includes a series of actions aimed at promoting synergies and thereby consolidating the international position of Cersaie and of its longstanding Bologna venue.
Already the world's leading show in the ceramics and bathroom furnishings sectors in terms of the number of exhibiting companies (482 and 269 companies respectively last year), as part of the new agreement Cersaie will extend its scope from 2014 onwards to include other categories of interior and exterior floor and wall covering materials such as marble, natural stone and wood.
As the world's leading event in the ceramics and bathroom furnishing sectors, Cersaie aims to share its factors of excellence and appeal with companies operating in the newly introduced product categories. Exhibitors from these sectors will thus be able to exploit the opportunities offered by the show while adding value and interest for visitors. 
The countries of origin of visitors are a further factor contributing to the importance and international scope of Cersaie. The 100,769 visitors who attended the five days of last year's show included 46,535 international visitors from 157 different countries, 4.2% more than at Cersaie 2012. The next International Exhibition of Ceramic Tiles and Bathroom Furnishings will be held from 22 to 26 September 2014.