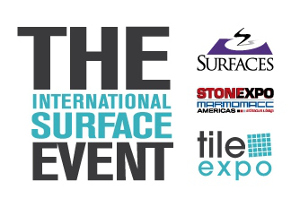 BNP Media brands including Floor Trends, Floor Covering Installer, TILE, Contemporary Stone & Tile Design and Stone World will sponsor several events at the International Surface Event next week at the Mandalay Bay Convention Center in Las Vegas.
Floor Trends (Booth S6671) is sponsoring the Social Lounge, an area offering short educational sessions led by social media experts, as well as a place to sit and catch up on your Facebook and Twitter feeds. Each morning across from the Social Lounge, stop by Floor Trends' booth for free coffee, a chance to chat with fellow show goers and to learn more about the magazine.
Floor Covering Installer (Booth S6671) is planning two happy hours for installers during the show, with staff from the magazine in attendance at both events. On Tuesday, Jan. 28, from 4 to 5 p.m., have a free beer on us and learn more about the Advanced Certifications for Tile Installers (ACT) program while networking with installers at the Certified Tile Education Foundation (CTEF) certification area, Booth B4277. This happy hour is sponsored in partnership with TILE (Booth B958).
The following day, on Wednesday, Jan. 29., FCI will host a happy hour at the International Certified Floorcovering Installers Association's (CFI) certification area at Booth B3687, from 4 to 5 p.m. Learn more about CFI's certification programs and get a chance to chat with fellow installers at the show.
Stone World will present its 2014 Fabricator of the Year Award at Booth B958, 4 p.m. on Jan. 29. Since 1987, a committee of stone industry veterans has come together to select a winner honoring the most innovative fabricator of the year.
Additionally, Floor Trends, FCI, TILE, Stone World and Contemporary Stone & Tile Design, will sponsor the New Product Marketplace, a special themed area giving attendees a sneak peek of products they can see on the show floor.
For more information about the International Surface Event, visit www.surfaces.com.