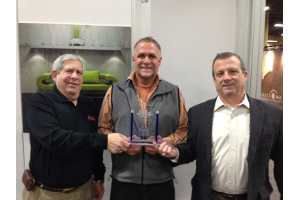 Fishman Flooring Solutions has been named Distributor of the Year for 2013 by the Floor Covering Distributor Alliance (FCDA) and its Powerhold brand. The award was presented at the FCDA annual meeting in Las Vegas on Jan. 27.
Candidates for the Distributor of the Year award are evaluated on several criteria, including the number of FCDA manufacturer members whose products it sells, growth in sales of Powerhold products and average sales of Powerhold products by branch.  In addition, the award recognizes a company's level of involvement with the FCDA board and committees, as well as its participation in annual meetings and marketing initiatives.
"This award means a great deal to the Fishman team because it is recognition by our peers of our performance in the marketplace, as well as our involvement in industry affairs," said Fishman President Bob Wagner, who is a member of the FCDA board. "The Powerhold brand is very important to us and we believe very strongly in supporting and giving back to the flooring distribution industry whenever we can."   
The FCDA is a network of some of the world's largest distributors and leading manufacturers of flooring and floor covering supplies. Members are located in Australia, Canada, New Zealand and the United States. In 1999, FCDA members created the Powerhold brand of floor covering supplies to provide professional flooring installers with quality products at competitive prices. Fishman Flooring Solutions is a founding member of the FCDA.