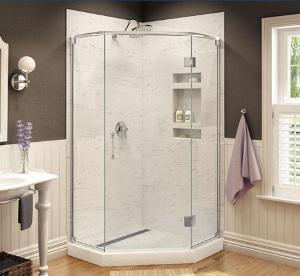 Tile Redi's new Redi Neo is taking a new angle on showers.
This product offers customers one-piece, tile-able shower pans with custom sizes and the autonomy to select them with the following integrated drains: Redi Trench, WonderFall Trench, Wonder Drain or Redi Drain. 
The tile-able surface of Redi Neo allows one to choose any tile: ceramic, porcelain, marble, granite, natural stone, mosaics, etc., from a one-piece slab to one-half inch tile sheets. End-users may create any design with the tile, matching existing bathroom, complementing it, or choosing an entirely different tile for the shower floor as an accent. 
Tile Redi's one piece ready-to-tile shower pan has everything integrated, including the drain, pitch, curb(s) and splash walls, and is listed by UL to comply with all plumbing codes. These products are also leak-proof.