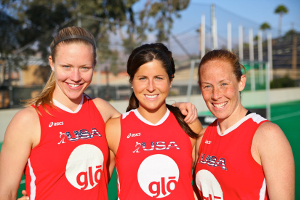 Ecore International, a company that transforms reclaimed waste into unique performance surfacing, recently added three members of the U.S. Olympic Women's Field Hockey Team to its staff as social media specialists.
Based in Lancaster, Pa., these women will work on and off site, as they continue to train and play in preparation for the 2016 Olympic Games in Rio De Janeiro, Brazil.
Lauren Crandall is a two-time Olympian (Beijing 2008 and London 2012), Captain of the Team, and one of only two current members with 200 international appearances. Crandall is from Doylestown, Pa., and holds a bachelor's degree in Communications from Wake Forest University. She is currently working towards a graduate degree from DeVry University Keller Graduate School of Management.
Stefanie Fee has been a member of the Olympic Team since 2012 and is from Virginia Beach, Va. Fee holds a bachelor's degree in Psychology from Duke University.
Katie Reinprecht is a one-time Olympian (London 2012) from Perkasie, Pa. She holds a bachelor's degree in sociology from Princeton University.  
To learn more about Ecore visit: http://www.ecoreintl.com/. To learn more about the U.S. Olympic Women's Field Hockey Team, go to: http://www.teamusa.org/USA-Field-Hockey/TEAM-USA/US-Women