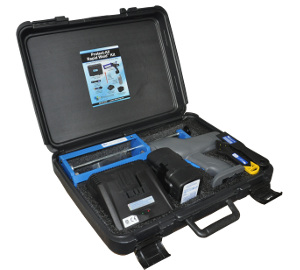 Protect-All's new Rapid Weld is an installation system designed to significantly reduce installation labor.
Protect-All Rapid Weld delivers a waterproof solution designed to support a range of rigorous tasks. This new patent-pending installation system developed exclusively for Protect-All flooring products, utilizes a chemical welding process that dries fast and enables installation and welding on the same day.
According to the company, together Protect-All and Protect-All Rapid Weld can reduce flooring seams by up to 80% versus 6 inch square ceramic or quarry tile.
For more information regarding this new installation method, contact Protect-All Flooring at 800-544-9538 or visit www.protect-allflooring.com.