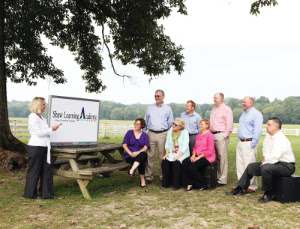 The Shaw Learning Academy, the comprehensive resource for developing and educating associates, customers, and partners of  Shaw Industries, has been recognized by Training magazine as a "Training Top 125" company for 2014.
This announcement was unveiled during the Training 2014 Conference & Expo awards gala held in San Diego, Calif. on Feb. 3. This marks Shaw's tenth consecutive year on the list, making the company the only flooring manufacturer to receive the honor this many years in succession.
"Shaw is honored to once again be included among the Training Top 125 for our ongoing commitment to the training and development of our associates, customers, and suppliers," said Danny Crutchfield, Shaw's director of corporate training and organizational development. "By prioritizing education and development as part of Shaw's culture, we are able to continue to retain top talent, deliver world-class service, and help our customers meet the emerging demands of their businesses." 
Offering more than 600 courses to Shaw's 23,000 associates and its customers, the Shaw Learning Academy has regularly been recognized as a leader in training in development, within the flooring industry as well as business, in general. Additional honors include the following:
• E-Learning! magazine recognized Shaw on its Learning!100 list for the last three consecutive years, ranking Shaw at No. 2 last year. Shaw was the only flooring company to be included on the list.
• Selling Power magazine ranked Shaw at No. 15 on its 50 Best Companies to Sell For list because of the company's multi-dimensional training program. Shaw was the only flooring company to be included on the list.
• Floor Covering Weekly named Shaw No. 1 in Training for Carpet, a result of votes by retail customers. 
• Training magazine also recognized Shaw's GED program, as well as the Shaw Language Exchange program, as "Best Practice Initiatives." 
• Shaw was named the 2013 College and Career Academy Business Partner of the Year by Lieutenant Governor Casey Cagle at the 2013 Lieutenant Governor's Business and Education Summit – in recognition of Shaw's numerous college and high school educational and training partnerships to help develop the workforce of the future.
The Training Top 125, now in its 14th year, ranks organizations with the most successful corporate learning and development programs in the world. Programs are assessed based on factors including demonstrable results, progress of programs, innovation, success factors, training strategically linked to business goals, corporate commitment to training, and the potential applicability of best practices companywide and to other organizations and industries. Applications are judged quantitatively by an outside research company and qualitatively by Training's editor-in-chief and the Top 10 Hall of Famers (organizations that appeared in the Top 10 of the Training Top 125 for four consecutive years). 
For more information, visit www.shawlearningacademy.com.