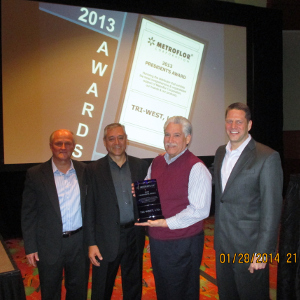 Pictured from left to right: Paul Eanes; Jamie Topete, West Coast District Sales Manager, Metroflor; Larry Johnson of Triwest; and Russell Rogg. 
Metroflor acknowledged the dedication and hard work of its trade partners across the entire brand portfolio by presenting its performance awards for 2013 during a reception at The Palms, coinciding with Surfaces 2014. The presentation was attended by Metroflor's distributors, sales team and new commercial specialists.
"Our stellar 2013 results couldn't have been achieved without our distributor partners, whose outstanding efforts made this sales achievement happen, along with our wonderful sales team. Together they keep Metroflor a vital force in the LVT industry," said Russell Rogg, Metroflor's president & CEO.
Metroflor's most prestigious Paramount Award was presented to Herregan Distributors, with the most outstanding sales achievement across a diversified range of Metroflor products. 
Triwest won the President's Award for the distributor who demonstrated the most comprehensive and unparalleled support of Metroflor, its brands and products. 
Triwest was also the recipient of the Metroflor LVT Distributor of the Year, presented to the partner with the greatest sales performance within the Metroflor dryback LVT brand.  Triwest's Larry Johnson was Metroflor's choice for the Visionary Award, honoring the individual whose vision, passion and conviction best pioneered Metroflor's initiatives. 
Other winners across Metroflor's entire brand portfolio for outstanding sales achievement included:
Distinguished Service Award (new)-- George Tattersfield, longtime Metroflor salesperson, received this accolade upon his retirement "for his exemplary dedication, contributions and years of service while exhibiting sincerity, compassion and tenacity for the benefit of our organization and our customers," said Rogg.
Starloc Distributor of the Year -- All Tile
Konecto Distributor of the Year -- Ohio Valley Flooring
Artistek Distributor of the Year – Adleta Corporation
Engage Distributor of the Year – Herragan Distributors
Prevail Distributor of the Year (new) --William M. Bird
Distributor Sales Champion -- Don Hill/The Cronin
Product displays at the event introduced a wide range of SKUS across the brand portfolio, including: 
Metroflor dryback: multi-width plank 5" – 7"
Aspire: 12"x24" Slate IRE design and 5"x36" Travertine, Oak and Linear designs, all featuring Crescent Edge design, and can be grouted or non-grouted
New colorations for Konecto and Engage
Engage: Premier Collection, 4.0 mil, 7.25" X 47.6" in 10 colorations
Artistek: new colorations in tile and plank and new multi-width plank product (5" – 7" by 48")