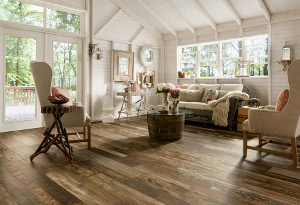 Architectural Remnants laminate flooring from Armstrong was honored by Better Homes & Gardens' Kitchen + Bath Ideas magazine as one of the "30 Most Innovative Products for 2014" in kitchen and bath design.
All 30 new products will be featured in the spring issue of the magazine (on sale March 11) and the full list of products can be found at bhg.com/KBI30Most. The top 30 were selected by the editors for their ability to combine smart function, seamless style, and cutting-edge technology.
"We were impressed with the extraordinary realism of the Armstrong product – from the variety of graining to the innovative mix of colors and species.  It looks so much like genuine, reclaimed vintage hardwood, but with the durability and easy care one associates with quality laminates," says Samantha Hart, editor-in-chief of Kitchen + Bath Ideas. "These kinds of top products combine innovation with the form and function and fun so important to today's homeowner."
Mara Villanueva-Heras, vice president, Marketing, Armstrong, says, "Having consumers read that Architectural Remnants is recognized as a top product by a magazine with the great stature of Better Homes & Gardens not only emphasizes the strength of the Armstrong brand, but also our commitment to continuous innovation and to providing value to our customers."
Architectural Remnants is a collection that combines multiple species and colors that look as if they have withstood years of use or were pulled directly from a historic structure — in random widths and with extensive but intelligently applied embossed-in-register to provide the realistic graining, texture and depth of reclaimed wood. 
In addition to the beautiful look of Architectural Remnants, the line also brings the benefits of laminate flooring.  With a 50-year residential warranty, Architectural Remnants boasts strength and durability, softness underfoot and low maintenance. In addition, the collection comes complete with VisionGuard and Hydracore Plus.  VisionGuard helps to protect the floor's surface from staining, fading and wear-through while Hydracore Plus is a solid core built into the middle of this product to allow it to feel more like real hardwood.
Architectural Remnants is available in eight different colors and also come in varying sizes. Each floor fits in a traditional setting or can be used to create an eclectic-looking space.The collection includes Antique Structure, a natural-looking reclaimed wooden floor with distressed and worn white paint; Skip Planed, created by the effects of textured sanding; Woodland Reclaim, which brings together multiple species of wood, in multiple widths; and Saw Mark Oak, rich and authentic with textured details in today's most popular oak colors. Architectural Remnants comes with a 50-year residential warranty as well as a 10-year commercial warranty.  For general information, visit Armstrong.com.
Kitchen + Bath Ideas is a Better Homes and Gardens special interest media publication and is published quarterly.