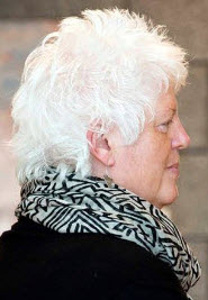 Award-winning artist, Kathleen Mooney.
Foreign Accents has collaborated with artist Kathleen Mooney to create Legends, a line of area rugs that will debut at the spring High Point Market.
Kathleen is an award-winning artist with Signature status in the National Watercolor Society and the International Society of Experimental Artists.  She utilizes lyrical painting, printmaking, hand cut stamps and custom stencils to create panels of acrylic paint with expressive and unique colors that recall the richness of silk.
"Working with Foreign Accents to translate my designs into rugs completes a full circle from the inspiration of ancient and world textiles back to a fresh expression of my art in rugs.  Ancient and contemporary, inspiration and beautiful rugs – I couldn't be happier!" Said Mooney.
The Legends line will be made of hand-tufted premium wool and viscose from India.