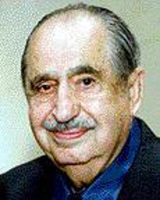 Michael Halebian Sr., who helped build the well-respected East Coast distributor bearing his name, passed away earlier this month at the age of 90.
Born in New York City, he grew up in the Bronx and graduated from the High School of Commerce. After high school, Halebian was employed by the Norden Co., manufacturer of the Norden bombsight, until enlisting in the U.S. Army during World War II, where he served in Europe and fought in the Battle of the Bulge.
After returning from the war in 1945, he acquired his uncle's Oriental rug supply business and built it into a nationally recognized floor covering distributor. Known in the industry as "Big Mike," he continued working until recently. The company is now headed by his son Michael Jr., the third generation of Halebians to run the family business.
Michael Jr. noted with three locations, Michael Halebian & Co., continues to inspire confidence with creative solutions for every flooring challenge. "Backed by our investments in education and technology, product knowledge and training, Michael Halebian & Co., continually reinvents itself to meet and exceed the changing needs of the flooring market. Most importantly, the seeds of the business sown back in 1931—quality, integrity, value—remain the principles that guide us today and will carry us into the future."
Doug Ray, president of the Floor Installation Association of North America (FIANA), stated in the association's recent newsletter, the organization "pauses to offer condolences to the family of Michael Halebian Sr. FIANA recognizes him as one of the original founders of the flooring distribution industry. He was a mentor to many who founded very successful distribution companies themselves. Whether you knew him personally or not, he positively influenced where we all are today."
Halebian survived by his wife of 64 years, Katherine, their children John (Lisa), Michael Jr., Carol and Edward; and grandchildren Samantha and Jackson. He is also survived by his sister, Alice Bendian; brothers-in-law Harry Chakmakian and Edward Saraffian; and many nieces and nephews. Halebian was predeceased by his sister May Chakmakian and brother-in-law Jack Bendian.
In lieu of flowers, the family requests donations be made to St. Leon Armenian Church, 12-61 Saddle River Rd., Fair Lawn, NJ 07410.