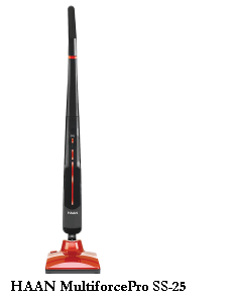 Haan Corporation's MultiforcePro SS-25 is one of five finalists in the "Most Innovative Product" category of The Blades Ecommerce Awards. The winner of this award, given to a company that has impacted its industry with a unique product, will be announced on March 6 in conjunction with the 14th Annual Miva Merchant Conference. 
Since its debut, the MultiforcePro SS-25 has garnered strong buzz in the housewares industry. Recently the product received a "Best in Category" honor at the 2014 Housewares Design Awards. It was named one of This Old House magazine's 'Top 100 Best New Home Products of 2012'.
MultiforcePro SS-25 features a high-speed scrubbing and buffing motion that works in tandem with 20 evenly dispersed steam jets. The unit's Counter-Reciprocating Motion technology enhances the natural pull-and-push motion of standard steam mops by creating 850 counter-reciprocating movements per minute. According to the company, MultiforcePro SS-25 is capable of cleaning almost any indoor and outdoor surface, including tile, vinyl, hardwood, laminate, carpet, wooden deck boards and stone patios.  
"Haan prides itself on being on the cutting edge of technology while creating versatile and chemical-free products with the consumers' best interest in mind," said Romi Haan, president and CEO of Haan USA.
The Blades Awards will also honor companies for Best Website of 2013, Best Feature and Most Compelling Story.
For more information on Haan products, visit www.Haanusa.com.