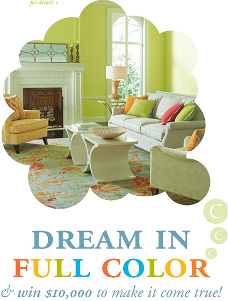 Company C is looking for consumers that could use some, "Company C color love" for its 'Dream in Full Color' Pinterest Contest which begins this Friday, Feb. 28. 
Applicants are asked to upload an image of a room in their home that could use a makeover to Pinterest and "pin" Color C products that inspire their ideal room redesign. 
When your Pinterest board is complete, enter the contest by "liking" Company C's Facebook page and sharing a link to your "Dream In Full Color" board via the contest tab on Facebook.
The winner of the contest will receive $10,000 towards the purchase of Company C products.
The contest ends at midnight EST on March 28, and a winner will be chosen by April 15.
For a complete list of contest entry instructions and rules, visit companyc.com