Quick•Step Enters Wood Category 
Las Vegas—Quick•Step entered the wood category at Surfaces.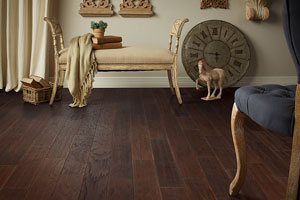 Quick•Step has entered the wood category with a comprehensive line under the new Q•Wood brand.
Paij Thorn-Brooks, vice president of brand marketing for Unilin, Quick•Step's parent company, said, "Our existing Quick•Step line of laminate flooring is widely-known as the style, design, and innovation leader. As a fitting complement, we are introducing the new Q•Wood line of engineered hardwood."
She said the line was designed as a "unique product assortment targeting consumers looking for premium, luxurious hardwood flooring."
The fashion-driven line is Made in the USA from solely domestic species and is available in eight oaks, three hickories, two maples and one walnut, and features three surfaces—smooth, soft scraped and wirebrushed accentuated by soft scraped tooling.
"Like Quick•Step laminate flooring, our new Q•Wood hardwood is a fashion-driven product line that offers the richest, most sophisticated premium looks available in tandem with low maintenance, ease of installation via our patented Uniclic glueless installation locking system, and resistance to the wear of daily living," said Thorn-Brooks. Products can be installed on or above ground, she added, and can be floated or glued.
Harry Bogner, senior vice president of hardwood for Unilin, said the product line also features Opulux Performance Enhanced Finish, a cross-linked coating system that illuminates the beauty of the grain, offering the appearance of an oil finish while maintaining the advantages of a conventional urethane floor. Opulux also provides a protective top-coat that shields against stains and everyday wear. "Opulux is just one of many innovations that makes Q•Wood one of the most unique hardwood floors on the market."
For more information, call (888) 387-9882 or visit quick-step.com.
Mohawk Ranks No. 5 In Training in U.S.
Dalton—Trainingmagazine, the leading business publication for learning and development professionals, has once again recognized Mohawk Industries in its annual listing of the "Top 125" training organizations, ranking the company fifth among some of the country's most widely recognized businesses. This is Mohawk's fourth year in the Top 10. Mohawk jumped three spots as last year it was ranked No. 8.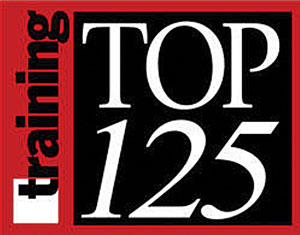 In addition to Mohawk, Shaw Industries and Tandus Centiva were recognized by the magazine as having some of the best training programs in the country. In 2005, Shaw became the first flooring company to be included on the list and has been ranked every year since. For 2014, the company jumped an impressive 40 spots to No. 29.
Meanwhile, Tandus continued it commitment to excellence, achieving a Top 125 ranking for the fourth straight year, and leaping forward 23 spots to land at No. 56.
This is the ninth consecutive year Mohawk earned recognition on the elite list, which evaluates excellence in employer-sponsored training and development programs.
According to the magazine, Mohawk's high place in the rankings was based on a multitude of corporate training initiatives, including Mohawk University (MU), which provides retailers with world-class training, education and business management resources. Celebrating its 20th anniversary in 2014, Mike Zoellner, vice president of marketing services at Mohawk, said MU will continue making the transition from a classroom learning experience to a world-class online training facilitator hosting hundreds of learning opportunities.
In addition to MU, the magazine said the company also excels in manufacturing, distribution, sales and administrative training initiatives that underscore the company's learning culture and commitment to extraordinary customer service, innovation and continuous improvement.
"The value of continued education and quality training programs cannot be overstated," Zoellner said. "Continual learning is the key to success in a highly competitive economy, and Trainingmagazine's 'Top 125' ranking gives retailers total assurance that partnering with Mohawk provides them with industry-leading training."
The current "Top 125" was the most competitive ever, according to the magazine. The rankings are determined by assessing a range of factors, including the scope of development programs and how well those initiatives assist the organization in achieving its business goals and objectives.
"Knowing that this year's selection process was particularly rigorous makes Mohawk's recognition even more meaningful," added Susan McGowan Hahn, director of MU. "It helps to validate the merits of our latest courses, designed to deliver top-line growth and drive store profitability."
For a complete list of the "Top 125" organizations, visit trainingmag.com.
NALFA Annual LAMMY Awards Winners Announced
Las Vegas—The winners of the 2013 North American Laminate Flooring Association (NALFA) LAMMY Awards were announced at Surfaces.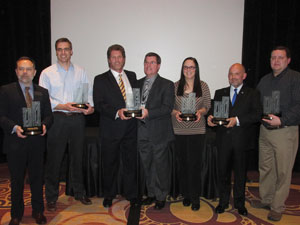 Winners of the 2013 NALFA LAMMY Awards were announced during a special ceremony at Surfaces. 
The LAMMYs, which have been presented annually since 2007, formally recognize both companies and outstanding individuals for excellence and achievements in a number of categories in the laminate flooring industry.
NALFA's board anonymously nominates individuals and organizations for each award category. The nominees are compiled, listed on ballots and sent for voting to NALFA members, as well as to the editors of the industry's major trade publications, including Floor Trendsand Floor Covering Installer.
The 2013 winners include:
• Memeber of the Year: Jane Winters – Unilin-Mohawk
• Associate of the Year: Gary Palmer – Pregis
• Distributor of the Year: Elias Wilf
• Retailer of the Year: Lowe's
• Associate Member of the Year: Selit
• Member Company: Quick•Step
 For more information, call (202) 785-9500 or visit nalfa.com.
Infinity Fabrics Moves to Change Carpet Playing Field
Dalton—Since 2007 Infinity Fabrics has been producing Luxury Woven Vinyl flooring utilizing a distinctive, patented manufacturing process that renders a soft surface floor covering ideally suited for both indoor and outdoor applications. While often referred to as a hybrid, this cross between LVT and fine woven carpet is Cradle-to-Cradle Silver Certified and 100% recyclable to its virgin state. All Infinity Fabrics products are UV stabilized, waterproof, stain resistant, and antimicrobial, thus impeding bacterial growth.
"The practical applications for this hybrid are enormous," said Steve Couch, president. "Luxury Woven Vinyl products set a new standard for commercial performance. Hospitality and healthcare environments are easily mastered through the use of these antimicrobial carpets. Their ease of cleaning is truly unsurpassed by any other product available in the carpet industry."
Stan McMackins, Infinity's vice president of sales, architecture and design business model, added, "Our products are truly unique. If they can withstand motor oil and gasoline being spilled on it on the deck of a boat, how great would they be in a day care center?"
Infinity Fabrics offers dozens of colors and patterns to choose from, all utilizing this hybrid technology.
Infinity Fabrics products are available through specialty retailers, flooring contractors, design firms, and purchasing agents. "We do not sell to big boxes or to companies that generate their business via the Internet," Couch said. "Our products are made exclusively in the USA, and we have a nationwide sales team to support our sales."
For more information, call (706) 529-2241 or visit luxurywovenvinyl.com.
Mullican's RidgeCrest Now Made in the U.S.A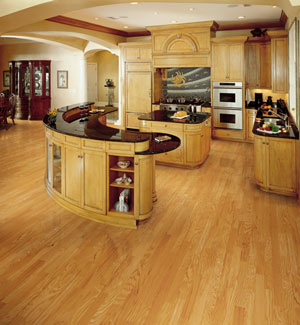 Mullican's RidgeCrest Collection is the latest product line the company is manufacturing in the U.S.
Johnson City, Tenn.—Mullican Flooring's RidgeCrest Collection product line is now made in the U.S.A. Previously offshored in Asia, the product line joins four collections introduced in 2013 that are now being manufactured at the company's facility here.
He noted RidgeCrest is "One of the most diverse collections offered by Mullican. Today's consumers are looking for readily available Made-in-America products. Manufacturing RidgeCrest at the Johnson City plant will meet that demand.""As a result of the success Mullican has seen with the production of the new engineered collections, it makes sense to move the RidgeCrest Collection to the U.S. as well," says Brian Greenwell, vice president of sales and marketing.
RidgeCrest will be the first ½-inch engineered product the company is making in the U.S. It is offered in an array of oak, hickory and maple selections in 3- and 5-inch widths. 
In addition to production at its Tennessee plant, Mullican also manufactures solid hardwood flooring products at its manufacturing facilities in Norton, Va., Holland, N.Y., and Ronceverte, W.Va.
For more information, contact (423) 283-4695 or visit mullicanflooring.com.
FreeFit Cleared for Third U.S. Patent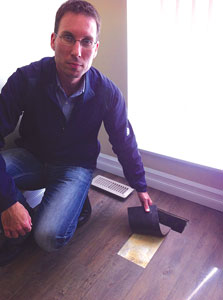 Jeff Knowles
Hong Kong—FreeFit has been granted a "notice of allowance" for a third U.S. patent protecting the use of all protrusions on the back of flooring—including those utilizing adhesives—for use in non-skid, loose lay installations. The line of loose lay luxury vinyl tiles and planks has previously received patents for non-skid-backed loose lay LVT and one protecting the use of diverse geometric shapes for non-skid, glueless and clickless installations.
For more information, call (800) 230-1000 or visit freefitfloors.com.