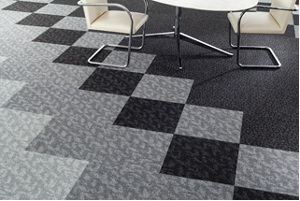 Inis Mór in Ballybane and Kilronan
Structured loop textile is explored with two new floor covering collections from Milliken, Inis Mór and Landscape. The introductions expand the company's commercial portfolio of high-performance product offerings while broadening aesthetic qualities for interiors.
The Inis Mór collection, inspired by the structure of Irish fishermen's sweaters, draws upon the influence of a traditional looped stitch – of the most basic, yet complex forms of textile creation. Two designs, Ballybane and Kilronan, provide small and large-scales of organic pattern that offer ease of movement across the floor plane.
Reflected in both pattern and construction, the all loop textile delivers incredible resilience and withstands the extreme wear and tear of high traffic areas. Coordinating collections and colors can be found through Milliken's Color Reference System.   
Additional details include:
• 18 colors
• Modular carpet tile (50 cm x 50 cm)
• Tufted, textured loop construction of Aquafil Econyl® Solution-Dyed Nylon Type 6
• 44 percent Total Recycled Content
• Standard PVC-free Underscore ES Cushion Backing and can be specified with Underscore ESP Cushion Backing
• TractionBack technology - a modular carpet backing that is less costly, environmentally superior, faster and easier to use compared to wet adhesives or peel and stick adhesives
The Landscape collection, part of Milliken's Constantine Collection, is a structured loop and tip shear construction designed to provide a solid background for interior environments. Inspired by the immense variety of landscapes on earth that become the backdrop to people's lives, the rich texture of the design reflects the living character and quality that define a region and its people, creating a sense of place.
Available in all 140 standard colors within Milliken's Color Reference System, there is endless potential to offer custom colors an extended range of color coordination within the Milliken portfolio.
Other features include:
• Patterned cut and loop construction of 100 percent Milliken-Certified WearOn Nylon Type 6,6
• Broadloom carpet (13 feett 6 inches)
• Standard Endura-Loc Backing and available with EPA3 Attached Cushion
• Rated for heavy traffic end-use
"Resilient textile constructions in floor coverings enable designers to elevate their space through both aesthetics and performance," said Barbara Haaksma, vice president of design and marketing for Milliken's global floor covering division. "By exploring the many ways a construction method can offer a variety of design qualities, Milliken can continue to provide floor coverings that fulfill a variety of designer and end user needs."  
Additionally, Inis Mór and Landscape are PVC-free and contribute to LEED and other green building certifications.