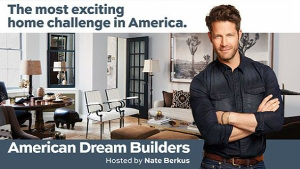 Dal-Tile product will be regularly featured during the inaugrual season of NBC's new one-hour reality competition series," American Dream Builders," premiering March 23.
Hosted by designer, Nate Berkus, "American Dream Builders" will pit 12 contestants against one another in a high stakes renovation competition. 
"At Dal-Tile, we pride ourselves on having a product portfolio that offers all that is needed to design with confidence, and look forward to seeing how the contestants use those products to renovate and redesign their own spaces," said Lori Kirk-Rolley, vice president, brand marketing, Dal-Tile. 
American Dream Builders will debut on Sunday, March 23 and will air weekly on Sundays at 8|7 CST. For additional information, visit NBC.com for additional information.