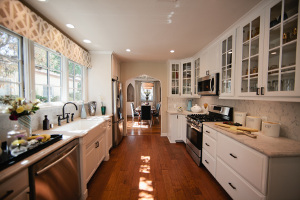 Armstrong Century Farm Hardwood Flooring used on NBC's "American Dream Builders" renovation competition. 
Armstrong and Bruce flooring products were used on NBC's new reality competition series, "American Dream Builders," which premiered on Sunday, March 23.
Each week the show's contestants will be pitted against each other in two transformative home-renovation projects. They will be asked to redesign and renovate the space from the inside out - all in a matter of days, ultimately competing for a cash prize of $250,000.
From Spanish to Tudor to midcentury modern, the designers will be expected to produce sweeping home renovations that bring a fresh, modern sensibility while remaining true to the home's innate charm and design characteristics.
"People are feeling more confident and inspired to make changes to their homes, not only to increase the value, but more importantly to enhance their quality of life and find products that fit their lifestyles and tastes. Our brands are associated with the attributes that people hope to find in flooring: quality, performance, trustworthiness and good value for their money," says Mara Villanueva-Heras, vice president, marketing, Armstrong Floor Products. 
In addition to flooring, Armstrong Residential Ceiling products also were selected by show designers as unique decorative ceiling and wall solutions in select episodes. 
Showcasing the talents of the most accomplished designers and home builders in the country, "American Dream Builders" celebrates creativity and style while revealing magazine-worthy home transformations. As people are eliminated each week, the teams grow smaller, forcing the remaining players to take on even more responsibility. 
Joining host Nate Berkus on the show as judges are Eddie George and interior design expert Monica Pedersen. George is a former Heisman Trophy winner (Ohio State University) and NFL all-pro (Tennessee Titans) who has now become a renowned landscape architect. Pedersen has appeared on several segments for "Today" as well as served as host on such HGTV shows as "Designed to Sell."  Berkus, George and Pedersen will review the finished work and determine which team achieved the best results. After facing the panel of judges, the losing team must send one member home.  In the finale episode, the last two designers will take on renovations for two impressive Southern California homes, bringing their unique vision to life.
Viewers will be able to tour the homes virtually and purchase specific items that are featured in that episode.  In addition, weekly prizes will also be given away to viewers, ranging from luxury household items to home makeovers, and cold hard cash. The series will culminate in the live finale where the two final contestants will each pull off a complete home rebuild and design on their own – implementing their own unique visions for a spectacular dream home.