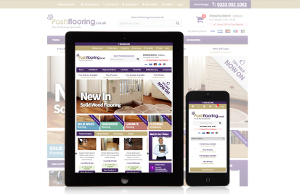 UK floor supplier, Posh Flooring's redesigned website offers users a vibrant and versatile experience, says managing director Dominic Nowell-Barnes.
Posh partnered with Creare, web design and SEO specialists, to develope a website that not only enhances the user journey, but is also fully compatible with smartphones and tablets.
"We wanted a website that was bold, dynamic and adaptable to our customer's needs and that's exactly what Creare delivered. It looks great, is simple to use and, most importantly, fully compatible with smart technology. We are extremely proud of the new site and extremely excited about the future," said Nowell-Barnes. 
The redesigned site also features: 
• New-and-improved bespoke design in tune with branding and image
• Images utilise a 'hover preview' allowing the image to be view as a large tooltip instantly.
• Mini header dynamically informs users how much they need to spend in order to qualify for free delivery across the site.
• Online calculator to calculate exact requirements.
• Online Advice Centre with tips, hints and how-to guides for all types of floors 
• Users can access their accounts to track orders, see previous purchases and receive special offers.
• Free samples offers 
For more information, visit http://www.poshflooring.co.uk.