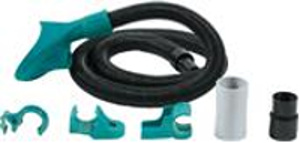 Makita has expanded its line-up of dust extraction solutions for concrete contractors with a new Dust Extraction Attachment, model 196571-4, for use with demolition hammers and rotary hammers (accepts SDS-MAX). 
According to the company, the new Dust Extraction Attachment is engineered to help reduce dust created from breaking and chipping concrete. 
"Contractors are demanding more dust extraction solutions and less concrete dust during tool usage," said Brandon Stover, Makita product manager, accessories. "With this new attachment for chipping and breaking applications, Makita has delivered another solution that helps reduce dust, without compromising tool performance."
The new Dust Extraction Attachment is a six-piece kit for use with a jobsite vacuum (sold separately), and is compatible with Makita SDS-MAX Rotary Hammers and Demolition Hammers. After attaching the dust cover and hose assembly to the shaft of the bit, the user can attach the hose to the hammer using one of two hose holders which are designed to fit the hammer's handle. 
Additionally, a third hose holder allows the user to attach the hose to the power cord. This versatility allows the user to direct the hose to the jobsite vacuum in the most efficient manner, and keep it out of the way during use. The kit also includes an additional hose joint for increased compatibility. The attachment is engineered for use with bull point or chisel bits commonly used in concrete demolition applications. 
The Dust Extraction Attachment kit includes a dust cover, hose (62-1/2"L), hose holder for power cord, hose holder for "D" side handle, hose holder for straight side handle, and hose joint (1-7/8"ID, 2" OD). 
"The new Dust Extraction Attachment's 12 Gallon Wet/Dry Xtract Vac Jobsite Vacuum checks all the boxes on a long list of features requested by contractors including more power in a compact size (135 CFM and 92" of water lift, weighs only 27 pounds.), less noise (only 59 dB(A)), an onboard tool-activated outlet, an automatic filter-cleaning system, HEPA filter capability, and more," says Stover.
Makita dust-collecting accessories include grinder shrouds for surfacing, attachments for cutting, and hammer attachments for rotary hammers that accept SDS-MAX and SDS-PLUS bits. Makita also offers hoses and attachments that are compatible with a wide range of woodworking tools including miter saws, planers, and more. 
For more, visit the Makita Dust Extraction micro-site at www.makitatools.com/XtractVac