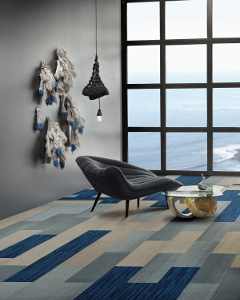 Interface, which publicly issued a Mission Zero promise 20 years ago to eliminate any negative effect the manufacturing of its carpet tiles has on the environment by 2020, recently received two sustainability honors. The Architizer A+ Awards cited Interface's Net-Works initiative with its Popular Choice Award in the Products + Sustainability category, and the International Green Industry Hall of Fame (IGIHOF) named the company for induction.
The A+ awards, hailed as the definitive architectural award program, received entries from more than 100 countries in 60+ categories, with the global A+D community casting votes online over a three-week period in March. Net-Works is a business partnership between Interface, the Zoological Society of London, and Aquafil, and was created to tackle the environmental problem of discarded fishing nets in some of the world's poorest coastal communities while supporting Interface's ambitious goals for recycled content for its carpet tile.  The program was launched in 2012 with 26 fishing villages based in the Philippines and continues to be a successful fair trade business model. It even helped keep those locations viable in the aftermath of the 2013 typhoon. Architizer will host a Gala for honorees at New York City's HighLine Stages on May 15. 
"All of Interface across the world has taken great pride in the Net-Works initiative, knowing that it is helping us fulfill our Mission Zero commitment," said Miriam Turner,assistant vice president, Co-Innovation. "We are grateful to have the architectural and design world voice its recognition of this program with its votes and the award. We hope it will inspire others to think about restorative business models of their own."  
Net-Works is one of a number of Interface initiatives and consistent practices that also helped the company earn the IGIHOF spot. In citing Interface for the honor, founder Sam Gell said, "The Interface story is one about true leadership, and the sacrifice it takes to do the right thing, the right way.  All who have been associated with Interface over the years share in this recognition for its pioneering, innovative sustainable practices. Along with founder Ray C. Anderson, Interface Inc. can take its rightful place among the icons in the Green Industry."
Mark Iberri, the company's regional vice president, represented Interface at the March 28th induction ceremony. It was held on the campus of San Jose State University, hosted by the Mineta Transportation Institute, and attended by more than 165 green business professionals from some of the world's largest corporations.
A full list of A+ Awards winners can be found on Architizer's website at http://awards.architizer.com/winners/, and IGIHOF's complete list of inductees is available at https://gogreenhall.org/. For more information on Interface and Mission Zero, visit interface.com.