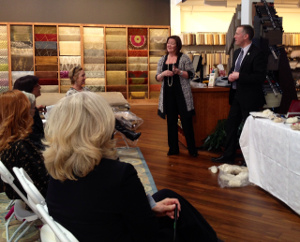 Bridgette Kelly and Tim Booth at the San Francisco Education Roadshow.
Campaign for Wool's Education Roadshow's 'Understanding Wool Fiber' course  presented the unique qualities of wool fiber and provided design professionals with a better understanding of wool's structure, how wool is sourced, the wool production process and the benefits of using wool in carpet and rugs.
"This course was created to provide designers with a deeper dive into the world of wool. Many designers and consumers alike appreciate wool's green qualities, but a number of misconceptions about the fiber still exist. The knowledge of the experts involved in the course development combined with the extensive experience of Bridgette Kelly and Tim Booth in the delivery of the training, provided designers in attendance with a wealth of practical knowledge and answers to all of their wool concerns," said  Kathleen Callahan of the International Design Guild.
"We had an excellent response to the training sessions, the designers varied in their knowledge of the fiber but we gave them a more comprehensive understanding of why wool was such a great choice for interior textiles including dealing with any queries and so it was very worthwhile," said Bridgette Kelly, interior textiles director for the Campaign for Wool.
All designers received a copy of The Wool Book and the Wool CEU workbook to take away. The Campaign for Wool Education Roadshow continues throughout 2014 and there will be a second course on wool for carpets and rugs coming soon.