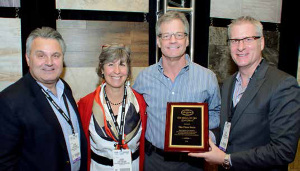 From left to right: Steve Staikos, Armstrong; Judy Balzer, Armstrong; Larry Flick, The Floor Store; Tom Mangas, Armstrong.
Armstrong Residential Flooring has announced its 2013 Elite Retailers of the Year and 2013 Elite Pinnacle Award winners.
"With more than 150 Elite showrooms nationwide, we wanted to recognize the best of the best," said Stephen Staikos, general manager, National Strategic Accounts, Armstrong Floor Products. "These dealers have shown an outstanding commitment to the Armstrong brand as well as to their partners and customers. We congratulate them and are excited to award them with this prestigious honor."
Richmond, Calif.-based The Floor Store received the 2013 Gold Retailer of the Year award. The family-owned San Francisco Bay area establishment has been in business for 27 years. The Floor Store currently has six locations and is planning to open a seventh this year. Their employees are trained in the floor coverings they offer and the Floor Store's installers are craftsmen who work exclusively for them.   
The 2013 Silver Retailer of the Year Award went to AJ Rose Carpets and Flooring, headquartered in Burlington, Mass. with a second location in Natick, Mass. Opened in 1977, AJ Rose Carpets and Flooring is a family-operated business and is currently the leading flooring retailer in New England. While they have grown substantially over the years, they haven't lost sight of providing comfort and trust to consumers. 
Long Island Paneling Ceilings and Floors-based in Lindenhurst, N.Y., received the 2013 Bronze Retailer of the Year Award. The chain has six locations covering Long Island. A combination of innovation and good old customer service has helped them grow year over year. The company will celebrate 50 years in business in 2014.
The 2013 Elite Pinnacle Award winners in each of five categories are: 
High Average Unit Volume of 2013 Key Initiatives: Maryland, Mercer Carpet One Floor & Home

Outstanding Sales Growth: Baker Bros. Baker Bros 

Lead Conversation/Closed Sales: Flooring America of Fairfax

Showroom Excellence:  Dalene Flooring Carpet One

Website Excellence: Floor Covering Associates (FCA)
To be considered for an Elite Retailer of the Year Award, retailers must hit key performance indicators including showroom and website excellence; lead conversion rate; sales and mix performance; and overall support of the program and the initiatives.