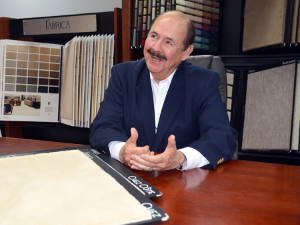 Al Fink, Fabrica International co-founder.
Fabrica International is celebrating its 40th anniversary throughout 2014.
The story of how the once small company grew can be learned from co-founder Al Frink.
Frink and two partners decided to open a small carpet mill in Southern California in 1974. With experience and ideas, but no money, they obtained a U.S. Government Small Business Administration (SBA) loan for $50,000 to start the business.
While completing the SBA paperwork, they realized they had no name for the business. The only thing they knew was that their building would be located at 1700 Fabrica Way. "Fabrica in Spanish means factory, fabric is a derivative of textile, fabricate means to make, carpet's a fabric, it's there!" recalls Frink.
The company made money the first month and paid off the loan in a few years, ahead of schedule. "I'm not sure three young guys could have contained themselves so well," says Frink, "but the SBA process gave us the discipline we needed. Fabrica wouldn't be here without it."
Fabrica focused on design, creating unique yarns and colors, adopting new shearing processes, choosing high quality backings. "Carpet is something you design with," says Frink, "not just a product to protect your floor until you can afford wood. It's designed to be something of beauty and fashion and treated with respect." Fabrica began to differentiate itself from the 400 other mills nationwide and 23 in California earning a reputation for style and "Quality without Compromise".
"We were very lean, nimble, and we built a beautiful product and had unique employees," said Frink. "Customers would ask for employees by name, and even when the company was up to $60 million in sales, employees still served customers as a boutique company would."
In 2000, Fabrica was acquired by The Dixie Group. "One of the reasons we sold was because we were concerned about the availability of raw materials, and Dixie was just about fully vertical," said Fink.
During Fabrica's first 40 years, the company has prospered through innovation, and in 2004 was inducted into the SBA Hall of Fame. Fabrica joined 23 others such as Hewlett Packard, Subway and Sun Microsystems.
Dixie acquired Carousel, a manufacturer of high-quality custom wool floorcoverings, combined it with Fabrica as an upward extension of the brand, and tapped Frink to guide the brand and apply what he's learned at Fabrica to make the most of the unique resources he sees there. "Carousel has great potential, and I'm very honored and happy to be leading it," said Frink.
Frink points to innovation as an important reason for Fabrica's staying power.  "What has allowed Fabrica to grow is that it has continued to innovate, growing its core competencies and the best is yet to come."