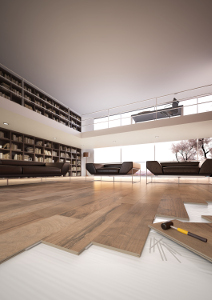 Del Conca's Fast is a new porcelain stoneware collection designed and produced in Italy.
According to Juan Molina, Del Conca USA's general manager, sales and marketing, "Not only is [Fast] quick and easy to install, because no mortar or grout is needed, the installation process is a very clean one. And since there is no waiting for adhesives to cure, once the tile is completely put down. People can immediately start walking on the new floor."
According to the company, Fast is an ideal selection for any residential and light commercial application. Using interlocking slots and tabs, the system can be installed directly over existing flooring. Because each tile is made of rugged, non-porous porcelain, they will never be affected by water or humidity and therefore, may be installed with confidence in "wet" areas such as the kitchen or bath. 
Fast is presented in three finishes: "Forma Fast," which emulates today's urban look of cement flooring, offered in a 8" x 32" format; "Saloon Fast," which is produced with an amazingly realistic woodgrain look and feel, offered in 8" x 32" planks; and, "Monte Napoleone Fast," also presented in a woodgrain format with large 6" x 48" and 8" x 48" planks.
Fast and the entire Del Conca line can be seen at the firm's Coverings exhibit L9063 at the Las Vegas Convention Center, April 29 -May 2. "We will be showcasing Fast on Coverings' TCNA Stage on all four expo days, two times daily, and welcome show attendees to see the Fast system being installed firsthand," said Molina. 
For more product information, visit http://en.delconcafast.com/installation/.